When a user accesses CloudRadial, there is a pop-up that displays at the top-right of the screen.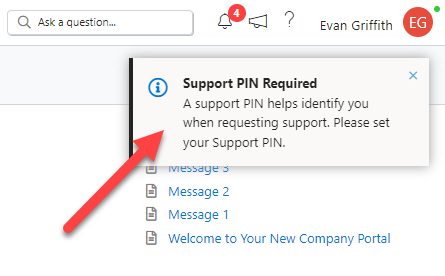 You can disable this pop-up from displaying. The support PIN feature of CloudRadial isn't a system-critical part of the platform.
What Does the Support PIN Pop-Up Do?
With a connected PSA, users have the option of setting their own support PIN that they can use for further verification when communicating with you.
Common examples of this include calling and verifying the PIN with certain tickets, such as order forms, onboarding requests, and any other form that calls for a more in-depth verification system.
The pop-up message is simply a prompt/shortcut to assist the user in setting up this PIN for their use.
To learn more about it and how it can be applied, please read this article.
Toggling the Support PIN Pop-Up
Navigate to Partner > Settings
Select Account & Branding at the top, under the Setup section




Select the Customization tab
Navigate to the bottom and toggle the checkbox to Prompt everyone to enter a Support PIN?
Press Submit to finalize the changes