Starting with the July 30, 2019 release, CloudRadial now relies exclusively on a partner application for performing Office 365 data gathering. To create this application and enable access to it from CloudRadial, following these steps:
In CloudRadial
Go to the Partner Settings page.
Click on the Microsoft Partner link on the right side of the page.
Click on the PowerShell Script tab at the top of the window.
Copy the PowerShell script using the Copy to Clipboard option.
On Your Computer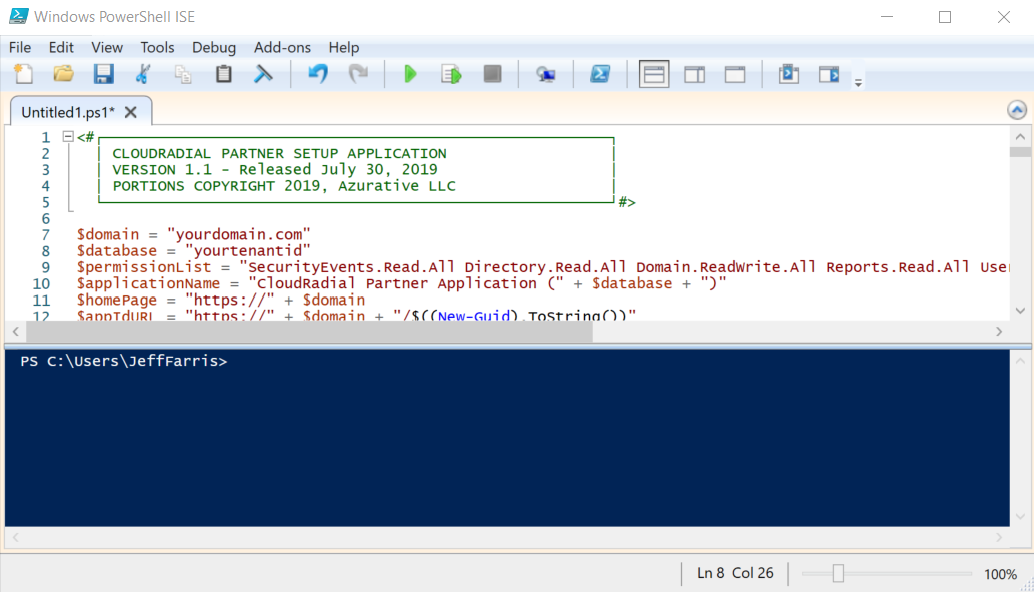 Open Windows PowerShell ISE editor as an Administrator. Administrator access is required to install the correct PowerShell modules (MSOnline and AzureAD). Use the 64 bit version of ISE.
Open a script pane using the View menu.
Paste the script you copied from Step 3 above.
Click the Execute Script button (Green Arrow).
Follow the prompts in the script.
After the script completes, return to CloudRadial.
In CloudRadial
Return to the Setup tab under the Microsoft Partner setup.
Copy and paste the values for AppId, AppSecret, TenantId and Realm that were provided at the end of the PowerShell script.
Press the Submit button at the end of the page to save your settings.
If everything has worked successfully, saving your settings will initiate a request to retrieve your clients and populate your clients in the Partner Office 365 tab.