Connecting your ConnectWise instance to your CloudRadial tenant allows you to pull in users and set up your configuration of PSA options for ticketing and various other features.
We'll follow four main steps:
Creating an API Member in ConnectWise
Creating API keys and entering them into CloudRadial
Setting up additional ConnectWise configuration options
Tying ConnectWise to specific companies in CloudRadial
Step 1: Creating an API Member
Why are we doing this? Getting an API Member setup, along with the keys, will set us up to establish a link between CloudRadial and ConnectWise so that they can share information back and forth.
In either the cloud-based instance or on the Windows client for ConnectWise Manage, navigate to System on the left-hand navigation menu, then to Members



Select the tab for API Members
Click + to create a new API member


In the Profile section, look for the Member ID and Member Name fields

Enter CloudRadial for both

Under the System section, give CloudRadial the highest permissions to prevent sync errors later

Set the Role ID an Admin or customized equivalent
Set the Level to Corporate or customized equivalent
Set the Name to Corporate or customized equivalent
Set the Location to your main office
Set the Business Unit to Admin or customized equivalent
Set the Default Territory to your main territory


Hit Save
Step 2: Creating an API Key and Tying it to CloudRadial
Why are we doing this? Now that the member and keys are created, we need to set the information in CloudRadial so the syncing and sharing can begin.
Select the API Keys tab on the new API Member
Click + to create a new API key
For description enter CloudRadial, then click Save
Copy both the Public Key and Private Key




Navigate to your CloudRadial tenant and go to Partner > Settings and click on "PSA" under Setup in the right-hand column
Select ConnectWise for the PSA
Fill out the first Connection Information section

Select either a cloud-based ConnectWise instance for your region or an on-premise version
(Optional) If on-premise, enter your URL without the http prefix
Set your ConnectWise Company Identifier
Enter your Public Key and Private Key in the next two fields
Important -> Once everything is entered, click on the Test Credentials text to ensure the connection is successful.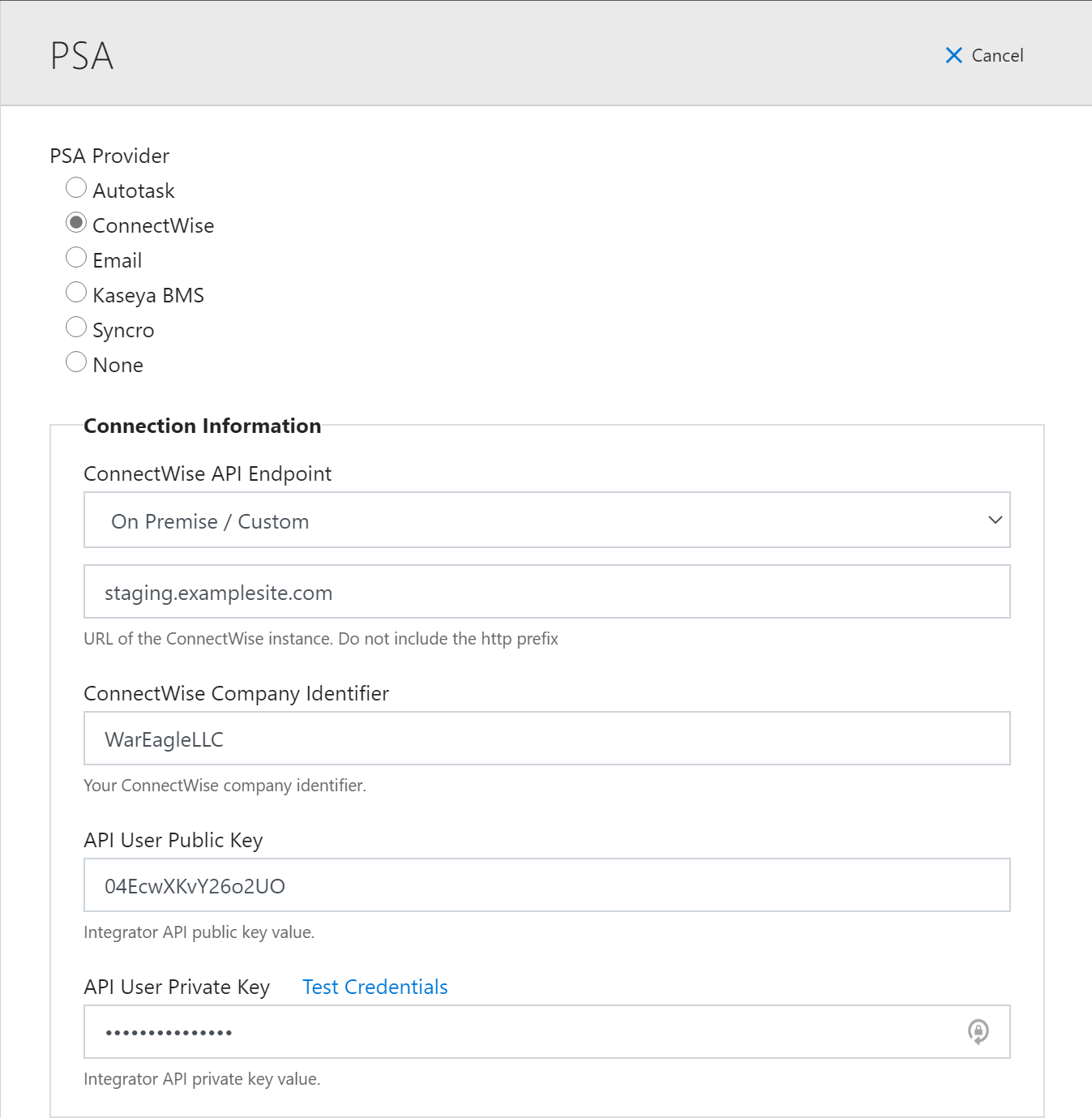 Step 3: Setting up Additional ConnectWise Configuration Options
Why are we doing this? This is where you can fine-tune the connections between CloudRadial and ConnectWise, helping you customize the link between the two to be exactly the way you want it.
Once you establish the connection to ConnectWise, you'll have access to the Lookup button(s) next to fields that will pull in available options directly from the PSA.
Setting up Ticketing Settings
Select Ticket Display Boards to determine what tickets your users will be able to see - multiple boards can be selected one at a time.

The first board you select, should be the board where tickets go initially such as Triage or Level I Support.

Select if you'd like users to be able to Cancel/Close tickets themselves in the portal
Match the statuses for the next few fields to existing statuses in ConnectWise on the boards you elected to display in the first step

If you don't have a Cancelled status, simply use the appropriate Close status
Ensure that the statuses exist in all boards - otherwise, the system will not recognize the statuses and produce errors when trying to submit tickets from CloudRadial to ConnectWise

(Optional) Set ticket statuses that will not be displayed in CloudRadial - tickets that have these statuses will disappear from client views until moved to another status
Set a different Priority for "User Priority" to escalate tickets for key members of companies
Setting up Change Approval Workflows
Similar to the section on ticketing settings, this area is built to define change management statuses based off of existing statuses in the boards that you've elected to show to clients in CloudRadial. You can skip this portion during the initial setup and set these options later. More information is located here.
Setting up Invoice Options
This area allows you to configure the invoice syncing options if using invoicing capabilities in ConnectWise. The fields are self-explanatory within CloudRadial, so no instructions are posted here.
Leave blank if you don't want to sync invoices.
Setting up Agreement Selections
This area allows you to configure the agreement syncing options if using agreement capabilities in ConnectWise. The fields are self-explanatory within CloudRadial, so no instructions are posted here.
Leave blank if you don't want to sync agreements.
Setting up Configuration Updates (From Data Agent)
This area is primarily used for those with ConnectWise, but without an RMM.
Since the CloudRadial data gathering agent can pull in data on machines like a lite RMM, it can define and upload configuration types of desktops and servers into ConnectWise.
Leave blank if you've already got an RMM defining these for you.
Setting up Other Settings
This area offers you two optional options:
The ability to swap over from the ConnectWise client portal to CloudRadial seamlessly so that users can use their same credentials to access the portal
The ability to show users time entries in the ticket notes shown to users.
Step 4: Tying ConnectWise to Specific Companies in CloudRadial
Why are we doing this? We need to use identifiers to help CloudRadial link specific companies in the portal to companies in ConnectWise.
Navigate to Partner > Clients in CloudRadial
Click on the 3 blue dots on an existing client
Click Edit




Once in the Company editing panel, look for the PSA Company Identifier field


Note: Steps 4-8 apply both when editing an existing client in CloudRadial or when adding a brand new one

Use the Lookup button to find their company identifier in ConnectWise
Press enter on the blank field to load entries, or type the first few letters of the company you're trying to find and then press enter

Click on the corresponding company
The ID will now be in place. Click Submit at the bottom of the panel
The data from ConnectWise will now be flowing into the relevant areas of CloudRadial. Depending on your board setup, their tickets will now work out of CloudRadial and their ticket data will now populate.
Setup is complete - simply repeat the ID entry steps for any loaded up clients or for new clients added to the portal.