The "User Priority" function is a helpful function within CloudRadial that marks specific people as a higher priority than others. Technically speaking, this setting overrides their tickets to come in as a different priority than the typical user. They must be submitting through CloudRadial to a PSA (such as ConnectWise, Autotask, Syncro, or Kaseya BMS).
Most commonly, this is used for C-level positions, specific points of contact, VIPs, and more - basically, any use case where you can't afford to have their tickets slip through the cracks.
Step 1: How to Set Up "User Priority"
First, you must define your higher priority that you want to use for high priority within CloudRadial when you set up your PSA. Without this set, the "User Priority" function cannot work. To get it set up:
Navigate to Partner > Settings
Select PSA at the top right
Find the option for Priority for "User Priority"
​
The priority must match an existing priority within the PSA exactly (case-sensitive).
Step 2: Assigning Priority Users
You can edit a user manually and tick a specific box to mark them as a priority user. To do so:
Navigate to a given user under Usage > Users
Select the given user and Edit their profile

You can do this by clicking the Edit option that appears after selecting 3 blue-dot menu by their name, or by selecting them and then selecting Edit at the top-right of their profile

Once there, select the Priority User? box under the Ticketing section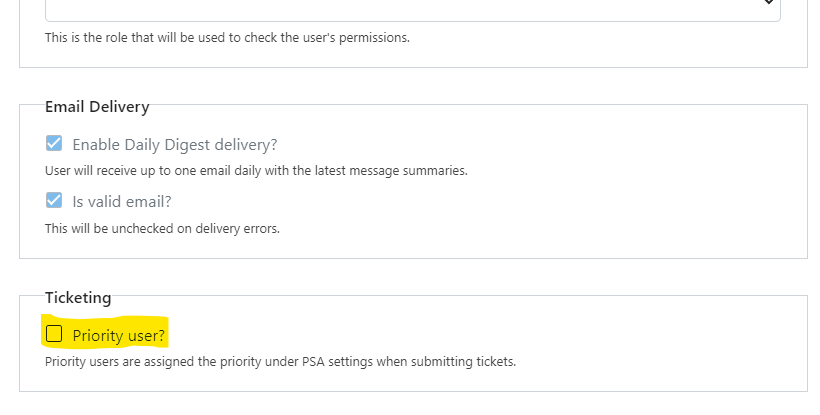 4. Select Submit to finalize the change.
The user will now submit tickets with the selected higher priority from step 1.
Potential Shortcut: Type Mapping
Type mapping will allow you to bulk apply the "User Priority" flag to a user without needing to select them one by one. More information on type mapping, please read this article:
https://support.cloudradial.com/hc/en-us/articles/360021689832-Mapping-PSA-Types-to-CloudRadial-Groups