Bigger Brains course content is available directly through CloudRadial. We offer 25+ courses at no additional cost to you, which are included with your monthly CloudRadial subscription.
You also have the option of upgrading to the premium catalog of over 130 courses with an add-on to your existing subscription. For pricing and more information on the full package, visit your Partner > Account section in your tenant and look for the Bigger Brains Course Content section.
You can see what's included in the Bigger Brains catalog, as well as which courses are free, on this page: https://radials.io/BiggerBrains.
---
---
Bigger Brains is fully integrated so that:
With a paid subscription to the full course catalog, billing is 100% handled through CloudRadial.
No separate portal is required for user management and access.
Bigger Brains courses can be displayed alongside your own existing courses.
Class completion tracking is handled in CloudRadial, just like other courses.
1. Acquiring the Bigger Brains courses for distribution
Tenants created past January 14th, 2021 will already have the latest courses pre-loaded within their tenant, under the Partner > Content overview, within the Courses section.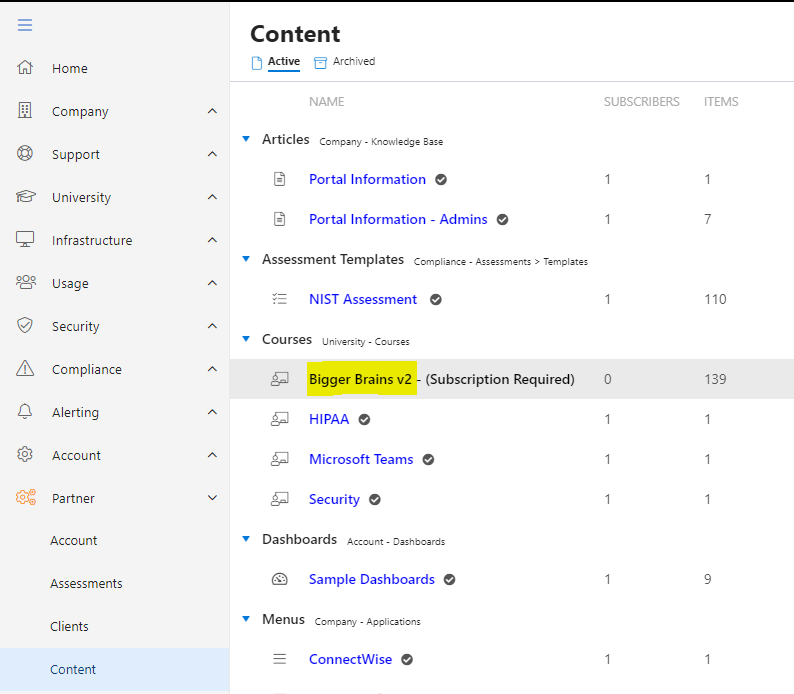 Things to Keep in Mind
Partners that are currently using the premium Bigger Brains course catalog for their clients should not remove their existing package and replace it with the new package. This will remove the course history for those that have taken the courses - these partners should be just be adding the add-on package to their existing package.


Partners that are downloading the ZIP files of Bigger Brains courses will need to import these courses into their Content area. Do not unzip the ZIP package - from within the Partner > Content overview, click on the Import option and drop the ZIP directly into the drag/drop zone.


Partners that wish to add courses into an existing content package can select the existing Course package and use the Merge option from within the package to effectively merge the courses into one folder.
2. Assigning Bigger Brains content to clients
Once the course catalog is imported, you can assign the content to clients just like any other content package. The courses can be deleted and moved to other content packages as required.
Premium courses won't show in a client company's portal unless you have deployed out the content package to that company, and enabled the Bigger Brains option under Partner > Clients.
Free courses won't show in a client company's portal unless you have deployed out the content package to that company. They don't need to have Bigger Brains enabled under Partner > Clients.
As a best practice, it's easiest to publish the content package holding the Bigger Brains courses to every company. This makes it so all the free courses go to all companies, and the premium courses show only for those with a special flag toggled on their account.
To toggle this flag, go to Partner > Clients, edit a Company and click the checkbox:



Even with this option enabled, you'll only be able to assign access if you have a sufficient number of licenses available to distribute.
3. Ordering the full Bigger Brains premium course catalog add-on
To order Bigger Brains seats, please contact sales@cloudradial.com.
If you are already a Bigger Brains subscriber, you may cancel your existing direct subscription.
Once your Bigger Brains subscription is active, you will see your available licenses on your Partner > Account page similar to this:

4. Monitoring usage and your billing
At Partner>Account, as shown above, you can see your available licenses and how many you have allocated out. Occasionally, you may add users to a company and go over the total licenses you've ordered.
If you exceed your available Bigger Brains licenses, you will receive an overage alert to notify you that your account will be charged automatically for additional user packages(s) in increments of 100 seats to cover the overage. The overage alert email is sent to the support email on file.
5. FAQs
If for any reason you are unsatisfied with the Bigger Brains content, CloudRadial will provide a full refund during the first 30 days of usage.
CloudRadial does not use the Bigger Brains dashboard nor does it have access to previous user history.
You do not need a separate license direct from Bigger Brains.
You can charge or up-charge for the courses in any way you choose, just as you can with the CloudRadial portal.