You can download the latest course package and install or merge it into an existing package.
Download the latest Bigger Brains courses.
Bigger Brains course content is available directly through CloudRadial. We offer 40+ courses at no additional cost to you, which are included with your monthly CloudRadial subscription.
You also have the option of upgrading to the premium catalog of 193 additional courses with an add-on to your existing subscription.
The cost of the full, premium catalog is billed at $40 per month for 100 seats, billed month-to-month and added to your existing CloudRadial bill. These seats are assigned by company, not by the individual user.
Both the free and premium courses are bundled in the same package. The premium courses only show up for a company if you've assigned Bigger Brains to that company.
For a specific line-item list as to which courses are free and which are premium, please check here: https://radials.io/BiggerBrains
---
---
Bigger Brains Overview
Bigger Brains is fully integrated. That means:
With a paid subscription to the full course catalog, billing is 100% handled through CloudRadial
No separate portal is required for user management and access
Bigger Brains courses can be displayed alongside your own existing courses
Class completion tracking is handled in CloudRadial, just like other courses
For pricing and more information on the full package, visit your Partner > Account section in your tenant and look for the Bigger Brains Course Content section.



Where to Get Bigger Brains Courses
Tenants will already have the latest courses pre-loaded within their tenant. They are located in the Partner > Content overview, within the Courses section.
The title of the content package should be Bigger Brains.
Both the Premium and Free courses are all located within one content package. Read the instructions in a later section for instructions on how to ensure your clients get the right Bigger Brains courses.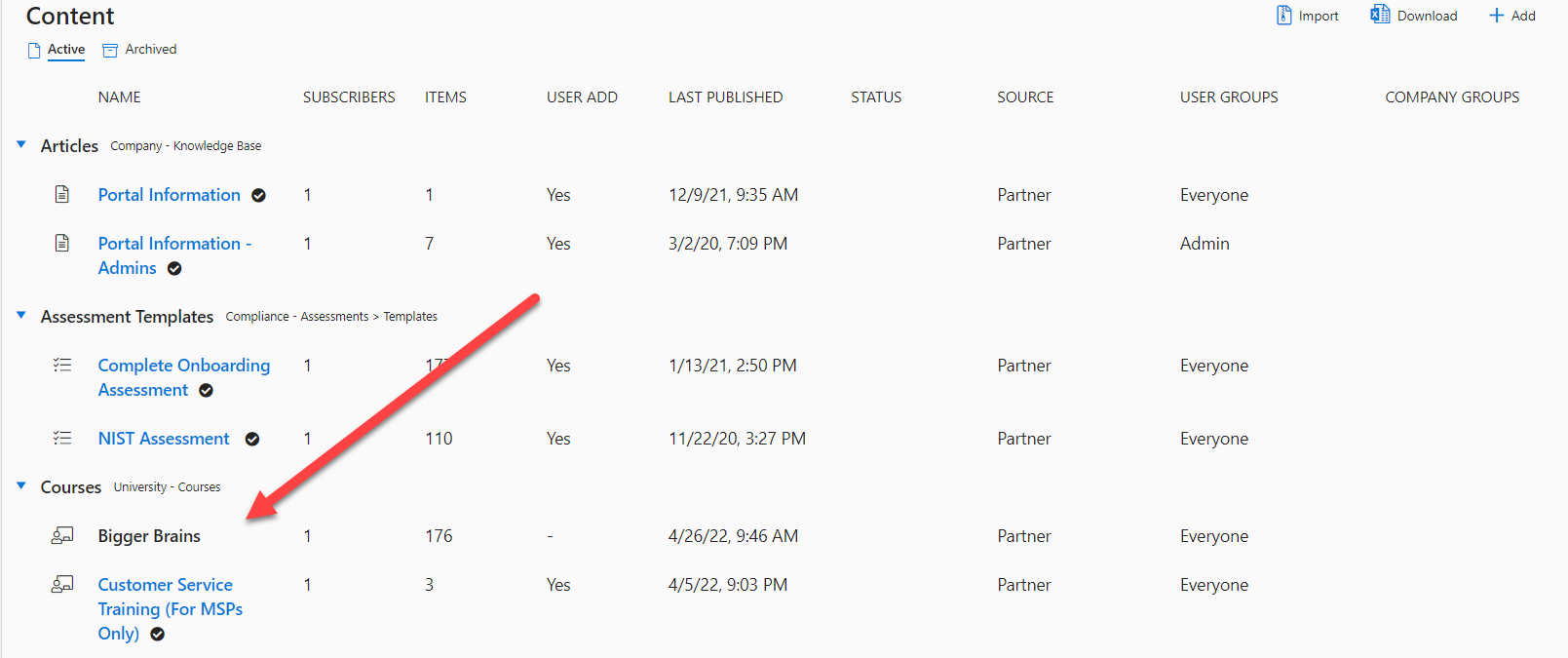 If your tenant does not contain this package or if you need a new one with all of the latest courses, please click here to download the latest Bigger Brains content package.
Remember that you will need to import and publish this content.
Managing Bigger Brain Course Catalog Updates
Bigger Brains expands the course catalog with new courses frequently. CloudRadial works directly with Bigger Brains to update the content once per annual quarter, every quarter.
When these updates are made, CloudRadial will let Partners know through in-app notifications as well as a note within our product update newsletters (of which you can sign up here).
How to Update Bigger Brains Catalogs with New Courses
Partners that are currently using the Bigger Brains course catalog for their clients should not remove their existing package and replace it with the new package.
This will remove the course history for any user that has already enrolled in the course(s).
Instead, Partners can simply acquire the latest course catalog package and use the Merge functionality to overlay the latest changes on top of their existing Bigger Brains course package.
To do so:
Navigate to Partner > Content
Locate and select your Bigger Brains course catalog
Select the Merge function via the top options




Ensure that the option to Replace any existing content by name? is toggled on
Select Submit to finalize the process
Now, CloudRadial will automatically add any new courses to the same package.
If there are any changes to existing courses such as new links, thumbnail art, or descriptions, the courses will be updated without losing any prior enrolee history.
Assigning Bigger Brains Content to Clients
Once the course catalog is imported and/or updated, you can assign the content to clients just like any other content package. The courses can be deleted and moved to other content packages as required.
Enabling and Publishing Free Courses
Free Bigger Brains course will not display in a client's University > Courses area unless you have deployed the content package to that company.
Note that they do not need to have Bigger Brains enabled under Partner > Clients to access the free courses. For instructions on how to publish them:
Navigate to Partner > Content
Locate and select your Bigger Brains course catalog
Select Settings
Select Edit
Set your publishing settings to the appropriate audience

We recommend you to have every company to have Bigger Brains courses. As such, we suggest using the Everyone User Group and the All Company Group to ensure full distribution.





Select Submit to finalize your settings
Select Publish at the top to push the courses out
Once publishing is complete, your selected audience will have the free courses available to them.
By not toggling on the premium option for specific organizations, you will not be charged for the full course catalog and the users will not see the premium courses.
Enabling and Publishing Premium Courses
Premium Bigger Brains course will not display in a client's University > Courses area unless you have deployed the content package to that company AND marked them as a paid Bigger Brains client.
For instructions on how to publish them:
Follow the same instructions as the Enabling and Publishing Free Courses above to publish the Bigger Brains content package
Once the courses are published, navigate to Partner > Clients
Use the Edit All option at the top right to bring up the multi-selector
Select as many companies as needed to receive the Bigger Brains catalog
Select the Bigger Brains button in the top bar




Review and accept the notification of the premium Bigger Brains charge

The price for courses is $40/100 users, billed on a month-to-month basis
The next bill will reflect the price change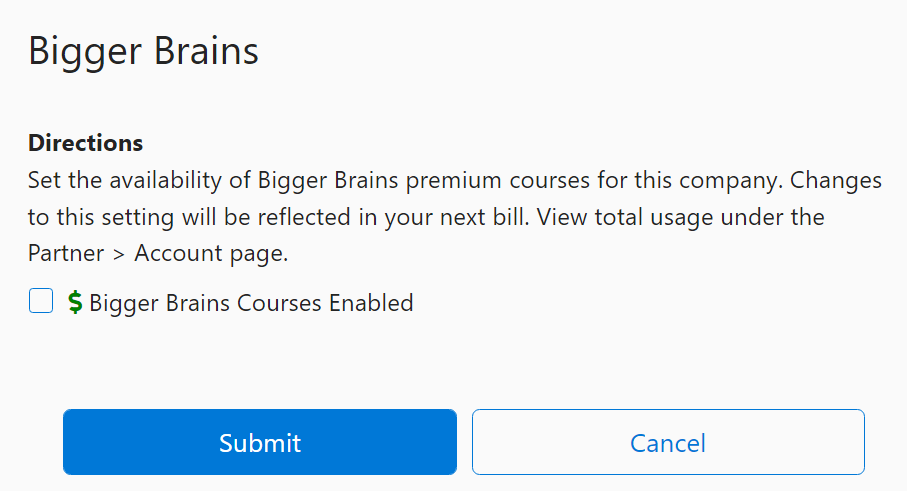 As you add new companies to CloudRadial, you can also assign them to receive the premium Bigger Brains course catalog from the very start by toggling the option to Enable Premium Bigger Brains courses?. This option is not enabled by default.



Monitoring Your Bigger Brains Usage and Bill
By navigating to Partner > Account, you can see your available licenses and how many you have allocated. Remember that the price for courses is $40/100 users, billed on a month-to-month basis.
You can always turn off companies from having premium Bigger Brains courses by following the steps in this section, but instead toggling the checkbox off.
Additional FAQs
Was this always the process for Bigger Brains courses?

No. The latest version of these changes occurred May 3rd, 2022. Prior to this version, Bigger Brains courses had to be ordered through an account manager and were updated with update packages that just contained the new courses. This new method simplifies the delivery and update speed of courses to all CloudRaidal partners.

What's different between these courses and the original ones?

The new courses feature updated art, improved text instructions, and multi-language support as well as a reworked distribution and consolidation engine to make them much faster to manage, update, and deploy.

Does CloudRadial use the Bigger Brains dashboard?

CloudRadial does not use the Bigger Brains dashboard nor does it have access to previous user history.

Do I need to get a license through Bigger Brains first?

You do not need a separate license direct from Bigger Brains. Everything is handled directly through CloudRadial.

Can I (should I) be charging for these courses?

You can charge or up-charge for the courses in any way you choose, just as you can with the CloudRadial portal. We recommend charging $1 per user, per month to give you a good margin of profit from Bigger Brains courses.

Which courses are free to use?