CloudRadial is designed to be a whitelabeled portal experience. While the standard is for CloudRadial Partners to set their own global tenant branding, there are cases where Partners may wish to further brand a specific client company with their own individual branding.
Doing so can foster more portal adoption - after all, people feel more connected to the portal if it feels more like their own home base. If you haven't yet, we recommend you get a primer on global, tenant-level branding by reading this article first.
Where to Set Company Branding
Company branding options can be set by doing the following:
Log into your CloudRadial tenant
Navigate to Partner > Clients
Locate a specific client and use the three blue-dot menu to select Edit for that client




Select the Branding tab for that client on the far right of the top menu options

Note: When adding a new client, you may skip step 3 and simply apply branding immediately upon the addition of the company
This is where you can set and modify any custom branding options you have for your clients. Read the next section to learn the capabilities and behavior of this branding function.
Company Branding Capabilities
Below, we'll break down what each function does within the Branding tab.
Note that to apply these branding configurations, you'll need to first toggle the Apply custom branding for this company? option at the top.
Remember that it is not necessary to apply custom branding for each client - if none is selected, the company will follow the global branding rules set by the partner.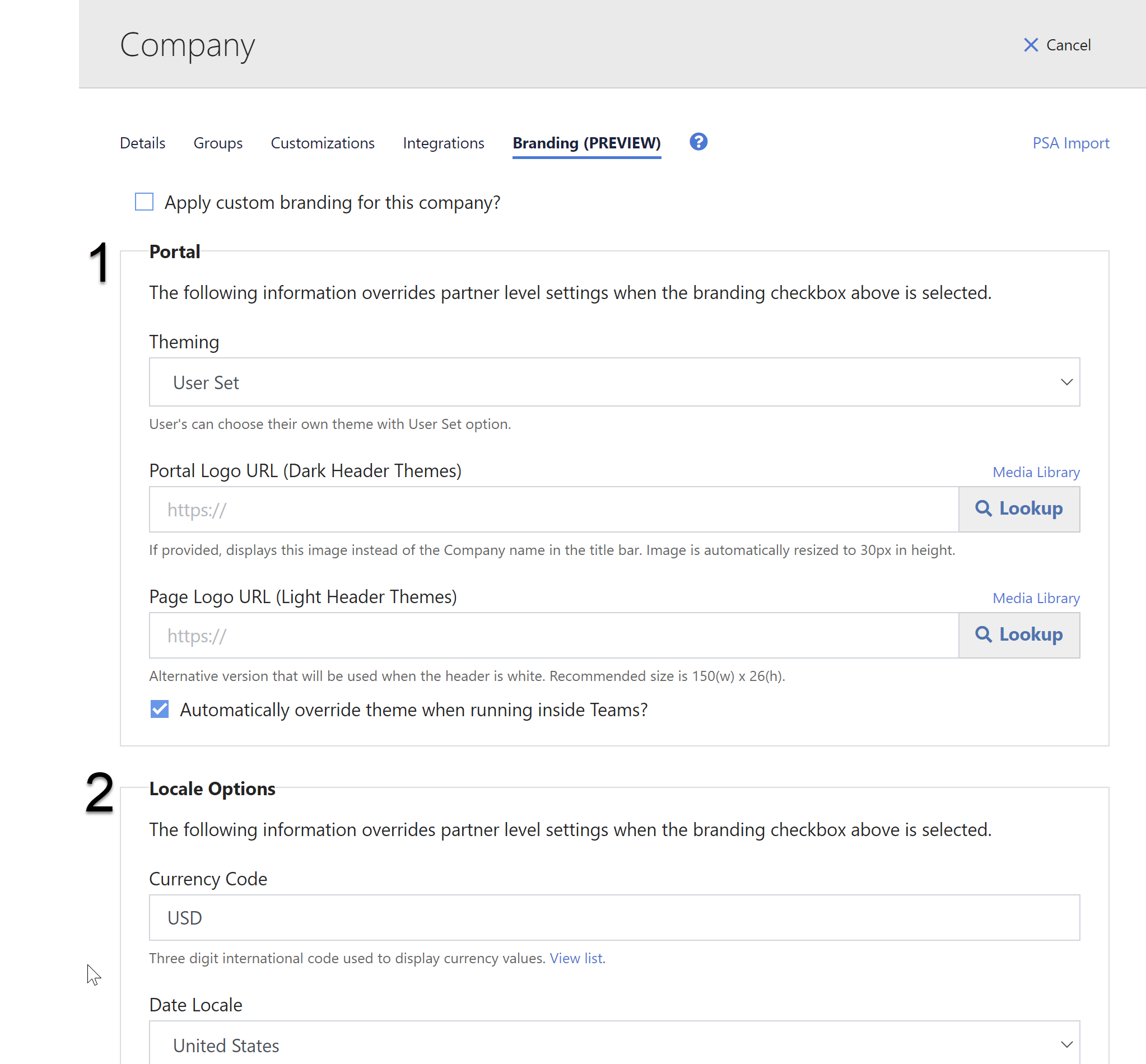 1. Portal
Just like global-level branding, a partner can select a theme override for a specific partner company that changes things like their sidebar color and top title bar color.
2. Locale Options
Each customer can be further customized with date options for different time zones, currencies, and even paper sizes for reports. This is to accommodate partners with clients in different parts of the world that adhere to different regional time, currency, and paper sizing standards.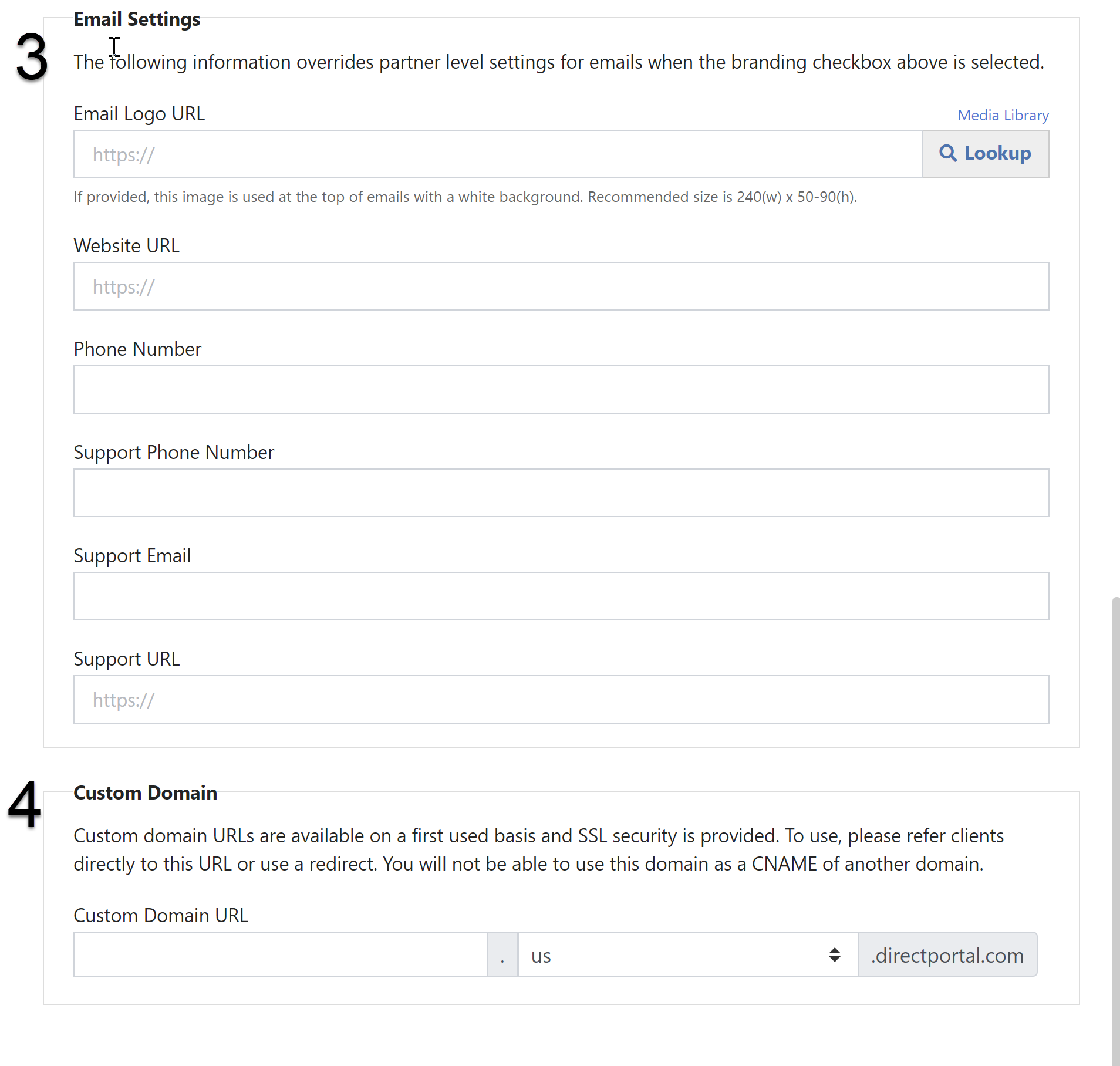 3. Email Settings
Partners can choose to override email settings for specific companies. Ultimately, these change the details within communications that reach them (such as email approval emails and daily digests).
Most commonly, this is used for co-managed environments where the default support is NOT the MSP - rather, it's the in-house or alternative team handling the IT support.
4. Custom Domain
This section allows the partner to select a custom domain specifically for the company that differs from the original region.cloudraidal domain, as well as different from their custom domain (if set up).
This domain functions on a principal of customname.us(or site).directportal.com. If available, a green sign will appear to the right of the domain showing that it's free. If taken, a red sign will appear.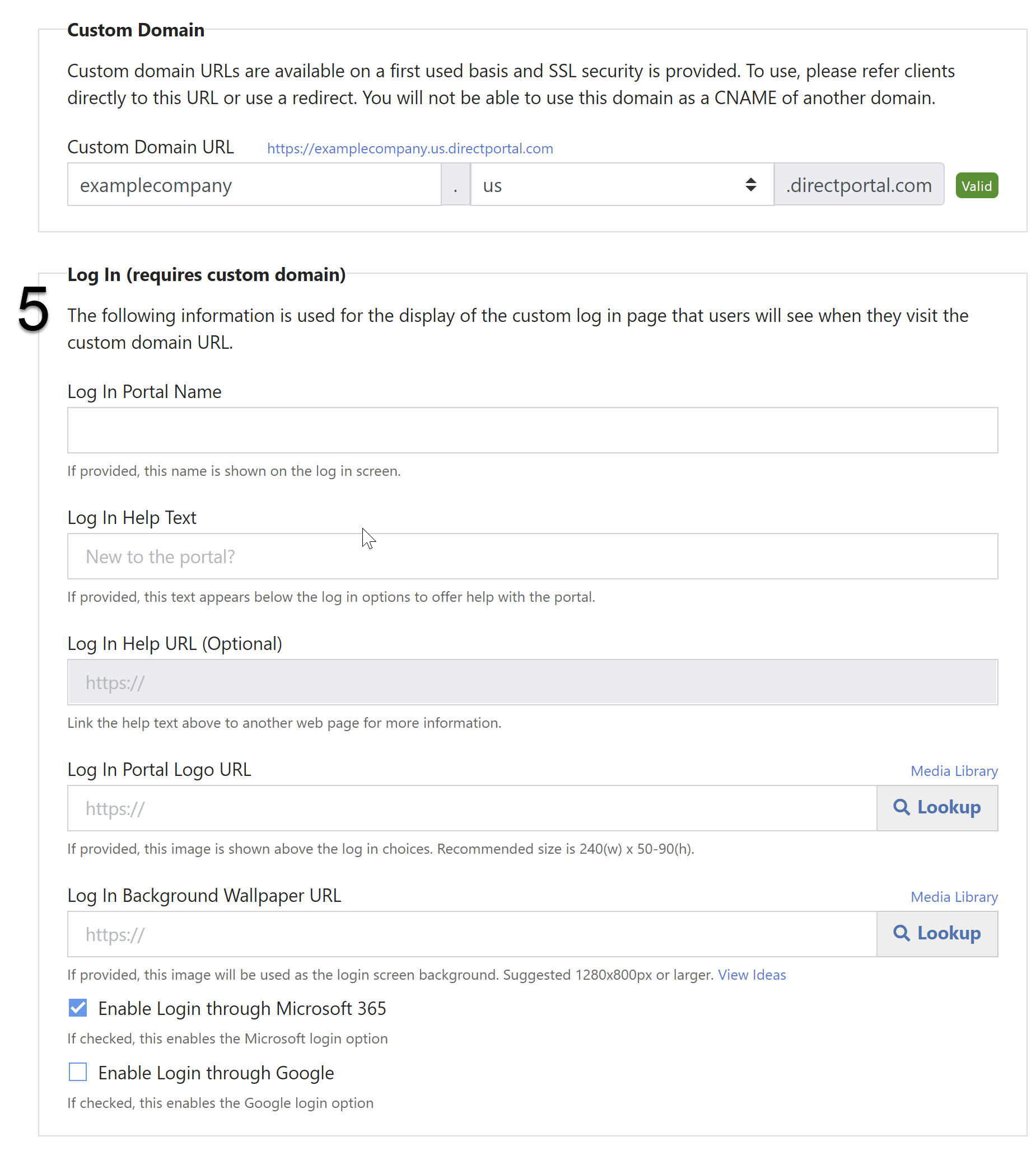 5. Log In (requires Custom Domain to be visible)
If a custom domain is entered, there will be an additional section to customize the log in page for the customer. The partner can choose a custom name, logo, and wallpaper for the customer to fully customize their portal experience.
Partners can also choose to enable or disable login options for that specific client for Microsoft 365 and/or Google.