In certain situations, Partners deal with clients with hundreds or even thousands of users. But in reality, only a few of them will be using the portal. In these cases, it's often desirable to add users to the portal on an as-needed basis.
You can set up a process to limit the number of users loaded in the portal and change the log-in process to as-needed only. To do so, we'll need to set up the option to allow users to request the creation of their own portal accounts.
How to Set Up Portal Account Creation
In this situation, you can take the following approach:
Navigate to Partner > Settings
Select Account & Branding at the top right, under the Setup section




Select the Branding tab
In the Log In section, toggle the option to Allow users to request a portal account?

Once toggled, edit the options for board/queue, status, and email to generate a ticket or email when a user requests an account.
This will provide an option on the log-in page to request an account which will show a form requesting user information that is added to the request you'll receive.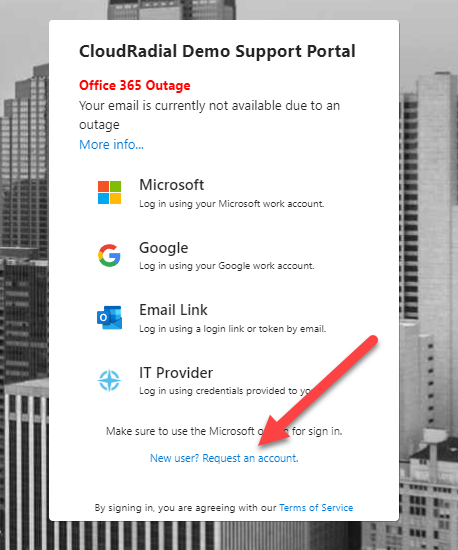 Now, when a user requesting access to the portal selects this option, they will be prompted to fill out a dialogue that will submit a ticket to the destination selected in step 4.
Additional Tips to Keep User Count Accurate
Use your PSA contacts to keep the authorized list of users you want to provide service for.


Sync to/from CloudRadial for your PSA only.

Use TypeMappings, if needed, to make sure only the right contacts have access.



Don't sync users from Office 365.

If the client has Office 365, you can sync basic information but uncheck the Sync users? option.