The feature set in CloudRadial comes with standardized text and verbiage for every tenant. However, many of our Partners prefer to customize the sidebar to match their specific needs.
We encourage you to change the text to match the terms you use that are most familiar to your clients for a fully immersive and white-labeled client portal experience.
How Much Can You Customize in CloudRadial?
Partners often wonder just how much of CloudRadial can be customized. All in all, you can customize:
The feature set navigation text


Home through Partner and all subsections can have their text customized





The Support Home menus

The iconography, colors, and text of each support home option





The Problem Report help text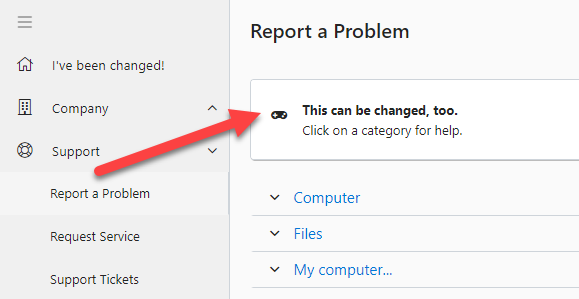 How to Change the Menu Text
Navigate to Partner > Settings
Click on Account & Branding at the top right, under Setup




Select the Sidebar tab
Rename any section to the desired name(s)




Select Submit at the bottom to finalize changes
Refresh the browser to see the applied changes
Accommodating Languages Other Than English
CloudRadial doesn't support native localization. However, for both our client's preferences and for localization needs, the sidebar is customizable and can theoretically support any language injection.
In a simple scenario, Partners can simply change the menu text to the language of their choice.
However, we commonly see our Partners struggle with a varied clientele that consists of clients that speak different languages - for example, a Canadian MSP with clients in Quebec may have some clients that speak only English while others only speak French.
To address this challenge, you can utilize token substitutions to vary the language of the sidebar on a company-by-company basis.
Please review this article for full instructions on how to accomplish localization in CloudRadial.
Additional Notes to Consider
The new custom naming will not overwrite sections listed in Partner > Content

Ex: Renaming "Problem Reports" to "Tickets" will still result in "Problem Reports" still showing as the name of the section within Partner > Content. This section is hardcoded and cannot be changed.