In Office 365 Active Directory, the User Principal Name (UPN) is the main ID for the user.
The UPN doesn't need to match their email address, though it typically is their email address. Active Directory also keeps another field for email which may be blank based on the AD implementation. In 365, users log in with their UPN identifier rather than the value stored in their email field.
How CloudRadial Syncs with UPNs
For syncing purposes, CloudRadial relies on the user's UPN as their email address for syncing across systems including synchronization with the PSA contacts.
This works fine most of the time unless Azure AD is synced from another system, such as when joined to an on-premise system. In this environment, there may be times when you'd rather sync based on the user's stored 365 email address rather than their UPN.
Overriding UPN Sync
In CloudRadial, under a company's Office 365 sync settings there is the option to disable the use of the UPN as the primary sync option.
To do so:
Navigate to Partner > Clients
Locate the specific client and use the blue 3-dot menus to Edit the company
Under the Office 365 Synchronization options, uncheck the option to Use User Principal Name (UPN) as email address?




Select Submit at the bottom to finalize changes
You will need to re-sync the company for the UPN changes to take effect. You can either wait for the overnight sync or you can force a sync by simply selecting the company and using the Sync option.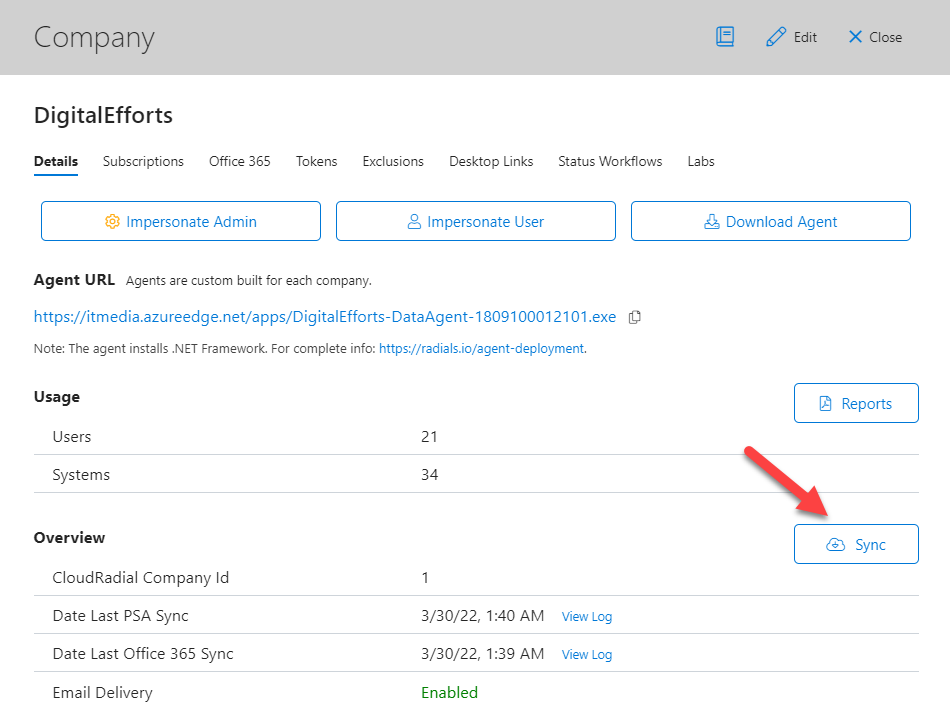 Once the sync is completed, the user list will reflect the UPN changes. When this option is unchecked, the user's email address will be used as the primary key for syncing if available.