Auvik integration provides a new Network tab under Infrastructure. It shows your client's devices and networks.
In Auvik
In your Auvik dashboard, click on "Manage Users" underneath the Admin area.
Click on the Invite Users option to create a dedicated account for this integration. If you want to use an existing email address, skip to the next In Auvik section.
Enter an email address for this user. This will need to a valid email account. You can use an alias for another email account.
Select the clients that you want to integrate with CloudRadial (or check All). Be sure to include your company (top level) in the list as well.
Select the "Roles" drop down and choose "API Access Only".
Send the invitation.
In Email
Accept the Invite you receive from above.
In Auvik
Log in with your (new) Auvik account. If you only have API access, you will be taken to the Profile page.

Otherwise, select your name at the bottom left. From there, you'll see your API key information at the bottom right of the screen. You may need to regenerate it.




Generate the API key and save.
Review the URL for your Auvik dashboard. It contains your Auvik region, which is the section just before ".my.auvik.com". It is typically a country code and number such as "us1" or "us2". You will need this region code for the integration.

In CloudRadial (Partner Settings)
Go to the Settings tab under Partner.
Click on the Integrations tab along the top.
Click on the "Auvik" option on the right side of the page.
Enter the email address, API key and enter the API URL based on the region code above. This API URL will look like:

https://auvikapi.REGIONCODE.my.auvik.com


After you enter the password, you can use the "Test Credentials" link that appears to verify the settings.
Save the settings.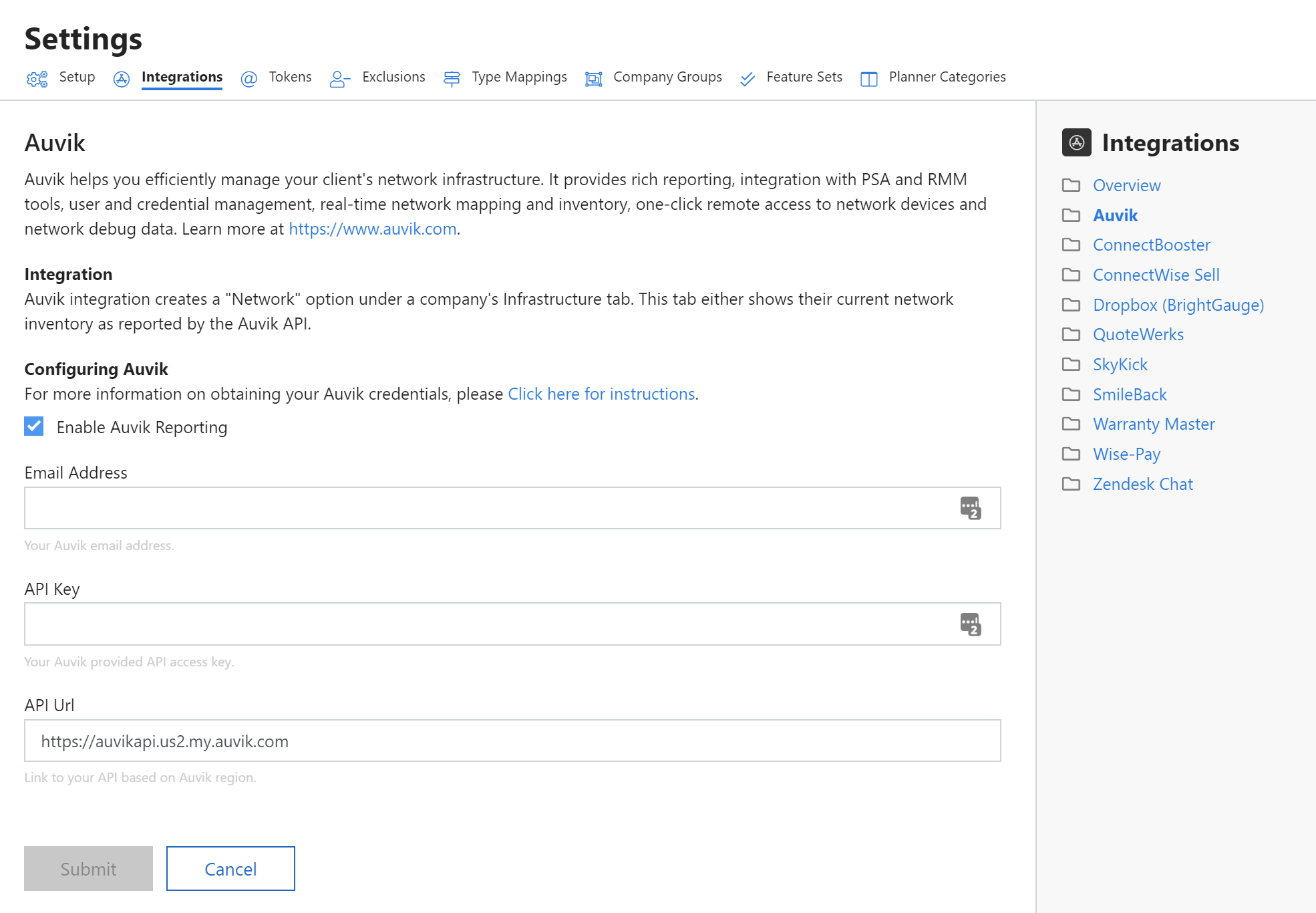 In CloudRadial (Client Settings)
To link a client to their Auvik tenant, go to Clients tab under Partner.
Click on the client and choose the Edit option (top right of the page).
Click on the "Add-ons" tab at the top.
Press the Lookup button Auvik Client Id. A lookup dialog appears. Enter blank or the first characters of the clients domain. Select the client from the list. Their Id populates in the text box.
Save the settings.
The Network tab should now appear under the client's Infrastructure settings. If the client is already open in a browser (or it's your account), you will need to refresh the page to see the new tab.
Usage
Auvik information is pulled directly from Auvik so it make take a few seconds for information to initially appear. Then, network reports are cached for one hour to speed up additional queries.