Connecting your Autotask instance to your CloudRadial tenant allows you to pull in users and set up your configuration of PSA options for ticketing and various other features.
We'll follow four main steps:
Creating an API User and getting API Keys from Autotask
Entering the API keys from Autotask into CloudRadial
Setting up additional Autotask configuration options
Tying Autotask to specific companies
Step 1: Creating an API User and Getting API Keys from Autotask
Why are we doing this? Getting an API User setup, along with the keys, will set us up to establish a link between CloudRadial and Autotask so that they can share information back and forth.
Log into Autotask and navigate to the menu on the left and click on Admin



Click on the + sign to expand the Resources/Users (HR) section
Click on Resources/Users




Hover over the downward arrow at the top left of the window and click on New API User




Fill out the necessary fields under the First General area


Set the First Name to Cloud
Set the Last Name to Radial
Set the Email Address to anything - it won't be used for our API purposes, so even test@test.com will work
Set the Security Level to the highest option to prevent sync and view permissions later

Generate the API keys under the Second General area

Click the Generate Key button to generate a user key. Make sure to copy and paste that key to a separate area, like Notepad or Word, for later usage.
Click the Generate Secret button to generate a secret password. Make sure to copy and paste that key to a separate area, like Notepad or Word, for later usage. This will not be accessible later so

DO NOT MISS THIS STEP

.

Select the vendor from the dropdown in the API Tracking Identifier section. REQUIRED.

Ensure Integration Vendor is selected.
Scroll through the list to find and select CloudRadial - Portal & Account Management

For the Line of Business field, drag over all relevant line items that relate to ticketing to ensure CloudRadial can see the right areas. Drag over all if you're not certain which ones are right.




Click Save & Close at the top once of this window once you've copied over both keys and ensured all fields are set correctly.
Step 2: Entering the API keys from Autotask into CloudRadial
Why are we doing this? Now that the user and key is created, we need to set the information in CloudRadial so the syncing and sharing can begin.
Navigate to your CloudRadial tenant and go to Partner > Settings and click on "PSA" under Setup in the right-hand column
Select Autotask for the PSA
Fill out the first Connection Information section

For API User Name, enter the username (key) you copied earlier from Autotask
For API User Password, enter the password (secret) key you copied earlier from Autotask

Important -> Once both are set, press Test Credentials - this will appear on top of the API User Password field

If set correctly, you'll get a message stating that Autotask Connected OK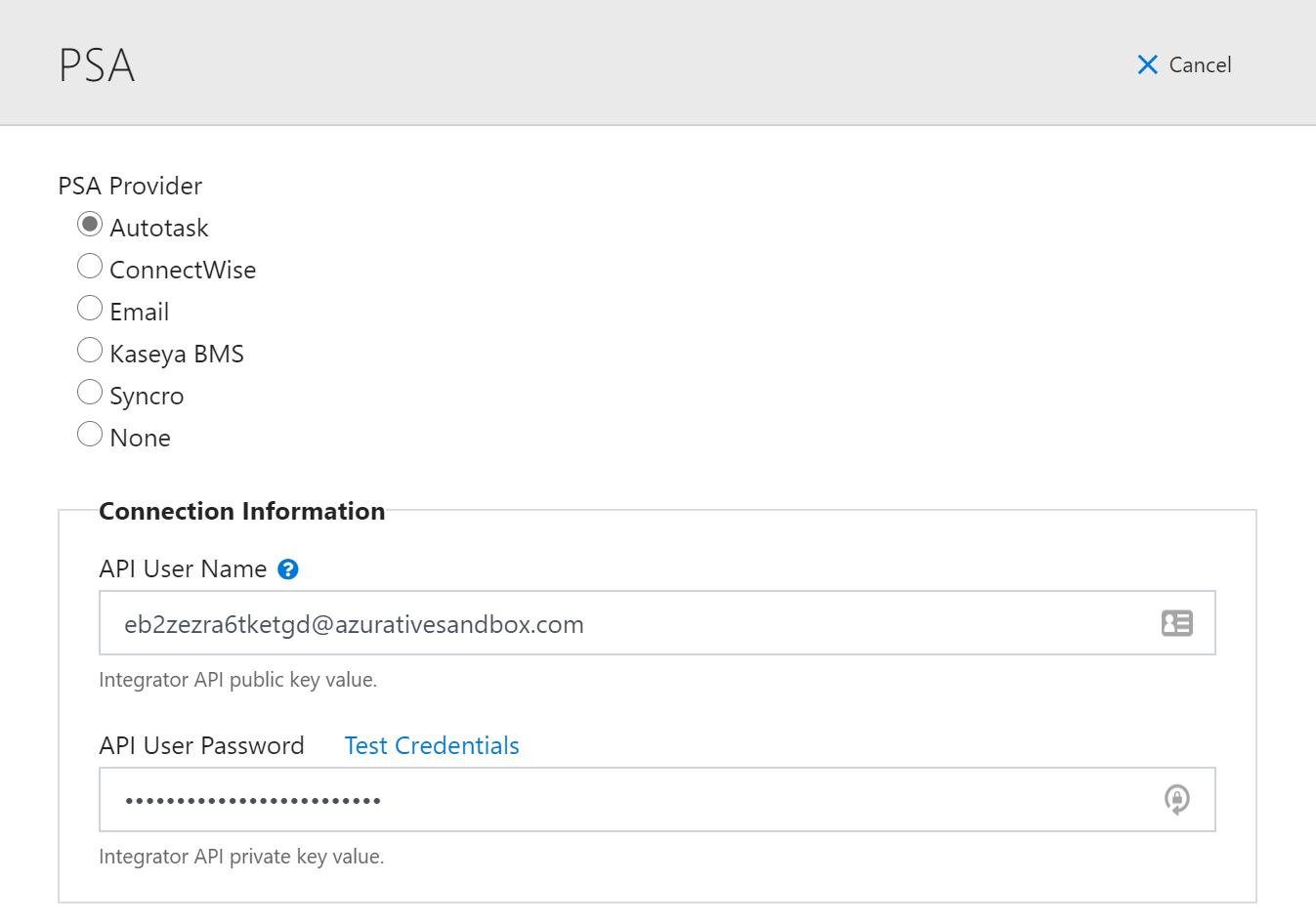 Step 3: Setting up Additional Autotask Configuration Options
Why are we doing this? This is where you can fine-tune the connections between CloudRadial and Autotask, helping you customize the link between the two to be exactly the way you want it.
Once you establish the connection to Autotask, you'll have access to the Lookup button(s) next to fields that will pull in available options directly from the PSA.
Setting up Ticketing Settings
Select Ticket Queues to determine what tickets your users will be able to see - multiple queues can be selected one at a time.

The first queue you select should be the queue where tickets go initially such as Triage or Level I Support.

Select if you'd like users to be able to Cancel/Close tickets themselves in the portal
Match the statuses for the next few fields to existing statuses in the Autotask queues you elected to display in the first step

If you don't have a Cancelled status, simply use the appropriate Close status
Ensure that the statuses match the existing statuses in queues exactly

(Optional) Set ticket statuses that will not be displayed in CloudRadial - tickets that have these statuses will disappear from client views until moved to another status
Set a different Priority for "User Priority" to escalate tickets for key members of companies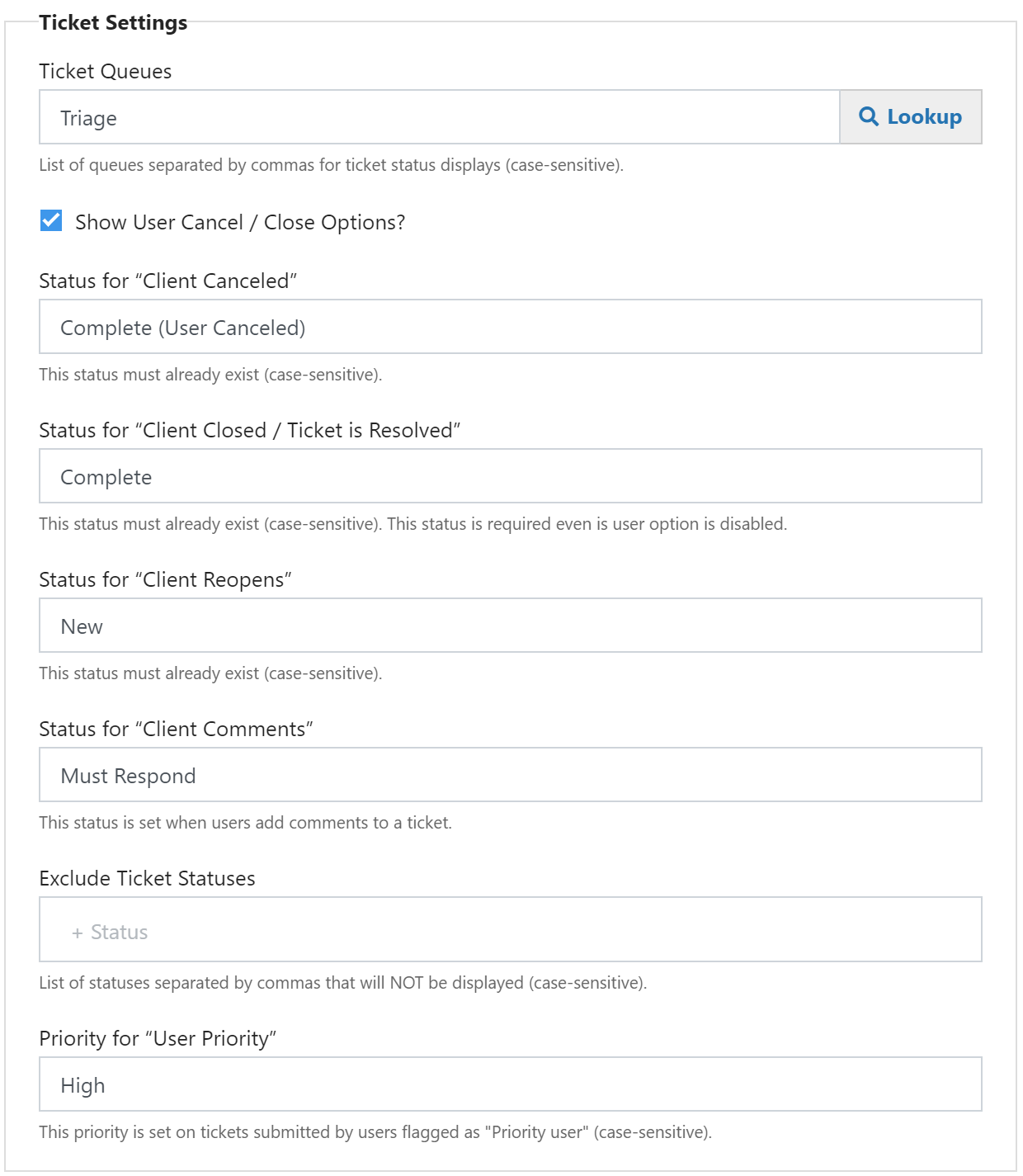 Setting up Change Approval Workflows
Similar to the section on ticketing settings, this area is built to define change management statuses based off of existing statuses in the queues that you've elected to show to clients in CloudRadial. You can skip this portion during the initial setup and set these options later. More information is located here.
Setting up Other Settings
This area offers you one additional toggleable option:
The ability to show users time entries in the ticket notes shown to users.
Step 4: Tying Autotask to Specific Companies in CloudRadial
Why are we doing this? We need to use identifiers to help CloudRadial link specific companies in the portal to companies in Autotask.
Navigate to Partner > Clients in CloudRadial
Click on the 3 blue dots on an existing client
Click Edit




Once in the Company editing panel, look for the PSA Company Identifier field


Note: Steps 4-8 apply both when editing an existing client in CloudRadial or when adding a brand new one

Use the Lookup button to find their company identifier in Autotask
Press enter on the blank field to load entries, or type the first few letters of the company you're trying to find and then press enter

Click on the corresponding company
The ID will now be in place. Click Submit at the bottom of the panel
The data from Autotask will now be flowing into the relevant areas of CloudRadial. Depending on your queue setup, their tickets will now work out of CloudRadial and their ticket data will now populate.
Setup is complete - simply repeat the ID entry steps for any loaded up clients or for new clients added to the portal.