Failed ticket advisories are generated when a ticket fails to submit to the appropriate routing destination in PSA-connected CloudRadial tenants.
Advisories happen automatically and cannot be disabled. However, Partners have the option of choosing whether they want to turn on email-based notifications to a specific email address (which supports tokens) OR to simply have them displayed in the application itself.
How to Turn on Emailed Ticket Advisories
Partners can turn on email advisories for failed tickets by:
Logging into their CloudRadial tenant
Navigating to Partner > Settings
Selecting PSA (under the Setup column)
Scrolling down to find the Send email advisories on failed ticket submissions? checkbox




Defining which email they would like email advisories to go to
As a best practice, we recommend having these go to an individual or distribution group. Sending advisories to a catch-all PSA email address, like a support email, can work - however, be advised that advisory emails will not be attributed to the submitting user and will need to be manually attributed.
Please note: Advisory emails are not intended to fix errors in submission. They are there as stopgaps to ensure that a user's ticket makes it to the Partner while giving the Partner ample time to fix the routing issue(s) in CloudRadial.
Ticket Failure Rationale
To avoid interruptions in the user experience when submitting a ticket, tickets will always display a form of success message when submitting, even when they actually failed to submit properly.
The goal is to have the ticket reach a destination to give Partners ample information to resolve the ticket, along with details as to why the ticket failed to submit properly.
Ticket failures will always display as in-app advisories listed within Partner > Account > Advisories (tab). Selecting these will display the ticket detail as well as the ticket failure details.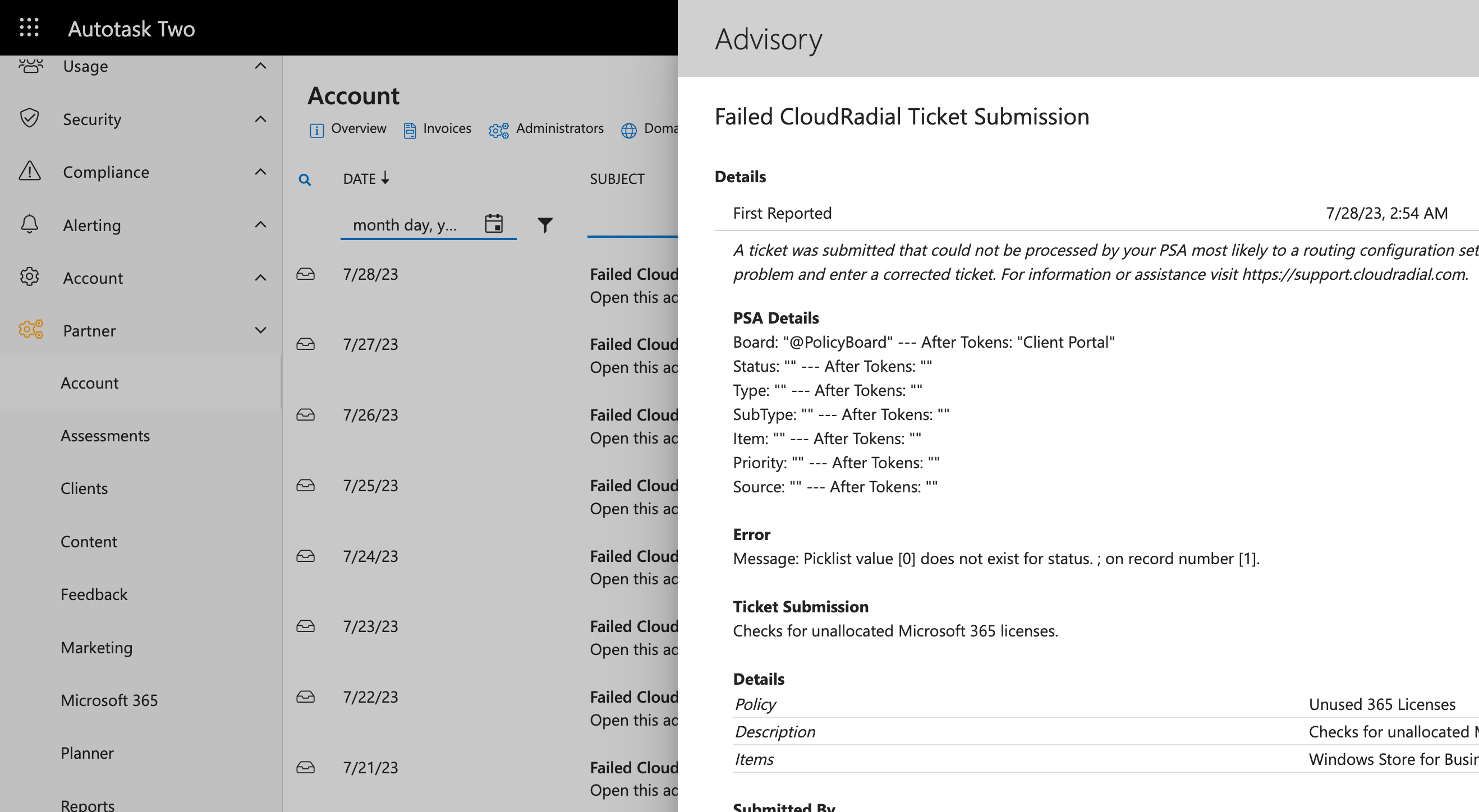 Email advisories are not enabled by default to avoid confusing support teams, who may not know where they come from or who submitted them.
Recognizing the Signs of a Failed Ticket Submission
Partners can recognize failed tickets in two ways:
The ticket takes substantially more time to submit (10-20 seconds)
The ticket success confirmation message contains no referenced PSA ticket ID

When a failed ticket is submitted, an advisory will immediately appear in CloudRadial. If the email option is enabled, the email will follow shortly thereafter.
Understanding Ticket Failure Details
Tickets can fail for multiple reasons - most likely, there is a mismatch in the board/queue, type, subtype, or another PSA-specific field. When the PSA is given a value for one of these fields that does not exist, it will reject the ticket.
That rejection will be reflected in the ticket failure details. Here is an example of one received from an email from a tenant connected to Autotask: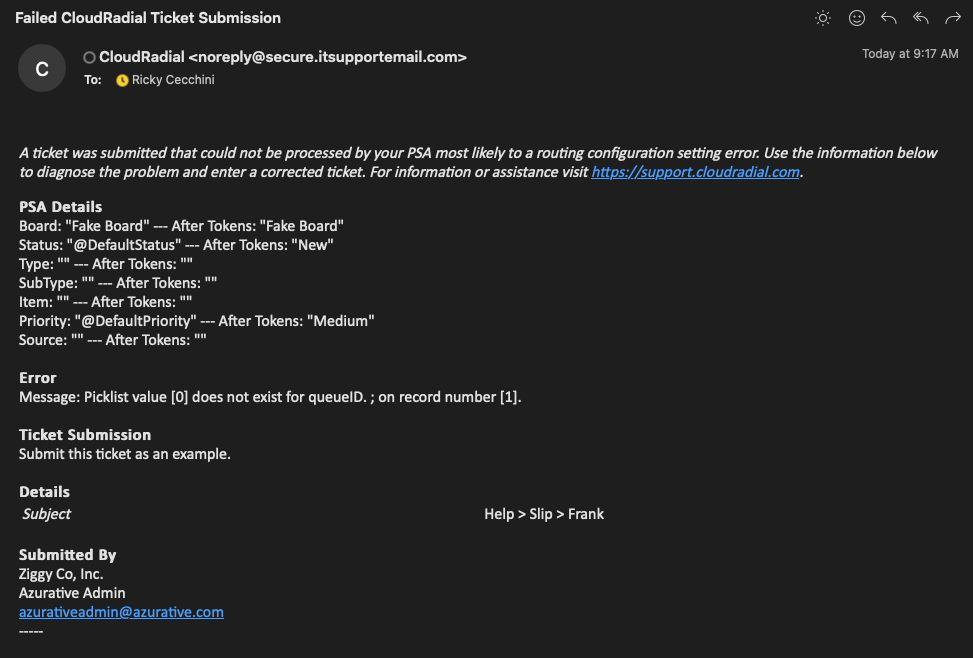 The following describes what to look for:
PSA Details:
This section is the area that tells you what the routing section resolves to. Whether you use tokens or outright write in your routing preferences, this section will show it all. Values with no entry in them are displayed with two quotes put together ("")
Error
This is the most important part of the message - this shows what's wrong. In this case, the error states that the value does not exist for the queue/board. In this case, we'd want to go back and explore what went wrong with the board (Fake Board). Spoiler - it doesn't exist at all.
Ticket Submission/Details
This section gives all of the details of the ticket based on the form/user inputs. This allows Partners to continue to resolve the ticket without needing to ask the user to re-submit the ticket or to answer any additional questions.
Submitted By
This section tells Partners who the submitter is - their company, user, and user emails. This ensures that Partners can properly understand which user submitted the ticket.