Note: Partners require an Enterprise subscription of CloudRadial to use the Mixpanel integration. Please reach out to support@cloudradial.com if you need assistance.
Mixpanel is a data collection platform that makes powerful analysis accessible to anyone. Interactive reports let you query your data with only a few clicks, then see visualizations in seconds. This makes it easy to answer question after question about how CloudRadial is used, who sticks around, and much more. Mixpanel has entry level options starting at no charge. Learn more at https://www.mixpanel.com.
Integrating with CloudRadia
Once you've set up your Mixpanel account, in Mixpanel:
Create a project and then go to Project Settings.
From the Developers page copy the current HTML script. https://developer.mixpanel.com/docs/javascript-quickstart
Under Access Keys, copy the Project Token.
Then, in CloudRadial:
Under Partner > Settings > Integrations > Header Scripts, paste the full Mixpanel script at the beginning. You won't need the lines for your token or the sample tracking page. The script should look similar to that shown in the sample below
Under Partner > Settings > Integrations > Mixpanel, Enter the Project Token from above and enable Mixpanel integration.
Save your changes.
Refresh your browser.
Sample Header Script Code
<

script 

type

=

"text/javascript"

>

 (

function

(

f

,

b

){

if

(

!

b

.

__SV

){

var

e

,

g

,

i

,

h

;

window

.

mixpanel

=

b

;

b

.

_i

=

[];

b

.

init

=

function

(

e

,

f

,

c

){

function

g

(

a

,

d

){

var

b

=

d

.

split

(

"."

);

2

==

b

.

length

&&

(

a

=

a

[

b

[

0

]],

d

=

b

[

1

]);

a

[

d

]

=

function

(){

a

.

push

([

d

].

concat

(

Array

.

prototype

.

slice

.

call

(

arguments

,

0

)))}}

var

a

=

b

;

"undefined"

!==

typeof

c

?

a

=

b

[

c

]

=

[]:

c

=

"mixpanel"

;

a

.

people

=

a

.

people

||

[];

a

.

toString

=

function

(

a

){

var

d

=

"mixpanel"

;

"mixpanel"

!==

c

&&

(

d

+=

"."

+

c

);

a

||

(

d

+=

" (stub)"

);

return

d

};

a

.

people

.

toString

=

function

(){

return

a

.

toString

(

1

)

+

".people (stub)"

};

i

=

"disable time_event track track_pageview track_links track_forms track_with_groups add_group set_group remove_group register register_once alias unregister identify name_tag set_config reset opt_in_tracking opt_out_tracking has_opted_in_tracking has_opted_out_tracking clear_opt_in_out_tracking start_batch_senders people.set people.set_once people.unset people.increment people.append people.union people.track_charge people.clear_charges people.delete_user people.remove"

.

split

(

" "

); 

for

(

h

=

0

;

h

<

i

.

length

;

h

++

)

g

(

a

,

i

[

h

]);

var

j

=

"set set_once union unset remove delete"

.

split

(

" "

);

a

.

get_group

=

function

(){

function

b

(

c

){

d

[

c

]

=

function

(){

call2_args

=

arguments

;

call2

=

[

c

].

concat

(

Array

.

prototype

.

slice

.

call

(

call2_args

,

0

));

a

.

push

([

e

,

call2

])}}

for

(

var

d

=

{},

e

=

[

"get_group"

].

concat

(

Array

.

prototype

.

slice

.

call

(

arguments

,

0

)),

c

=

0

;

c

<

j

.

length

;

c

++

)

b

(

j

[

c

]);

return

d

};

b

.

_i

.

push

([

e

,

f

,

c

])};

b

.

__SV

=

1.2

;

e

=

f

.

createElement

(

"script"

);

e

.

type

=

"text/javascript"

;

e

.

async

=!

0

;

e

.

src

=

"undefined"

!==

typeof

MIXPANEL_CUSTOM_LIB_URL

?

MIXPANEL_CUSTOM_LIB_URL

:

"file:"

===

f

.

location

.

protocol

&&

"//cdn.mxpnl.com/libs/mixpanel-2-latest.min.js"

.

match

(

/^\/\//

)

?

"https://cdn.mxpnl.com/libs/mixpanel-2-latest.min.js"

:

"//cdn.mxpnl.com/libs/mixpanel-2-latest.min.js"

;

g

=

f

.

getElementsByTagName

(

"script"

)[

0

];

g

.

parentNode

.

insertBefore

(

e

,

g

)}})(

document

,

window

.

mixpanel

||

[]); 
</script>
Now, as you navigate through CloudRadial, you'll see events and users start being recorded in your Mixpanel project. It can take a few minutes for data to populate.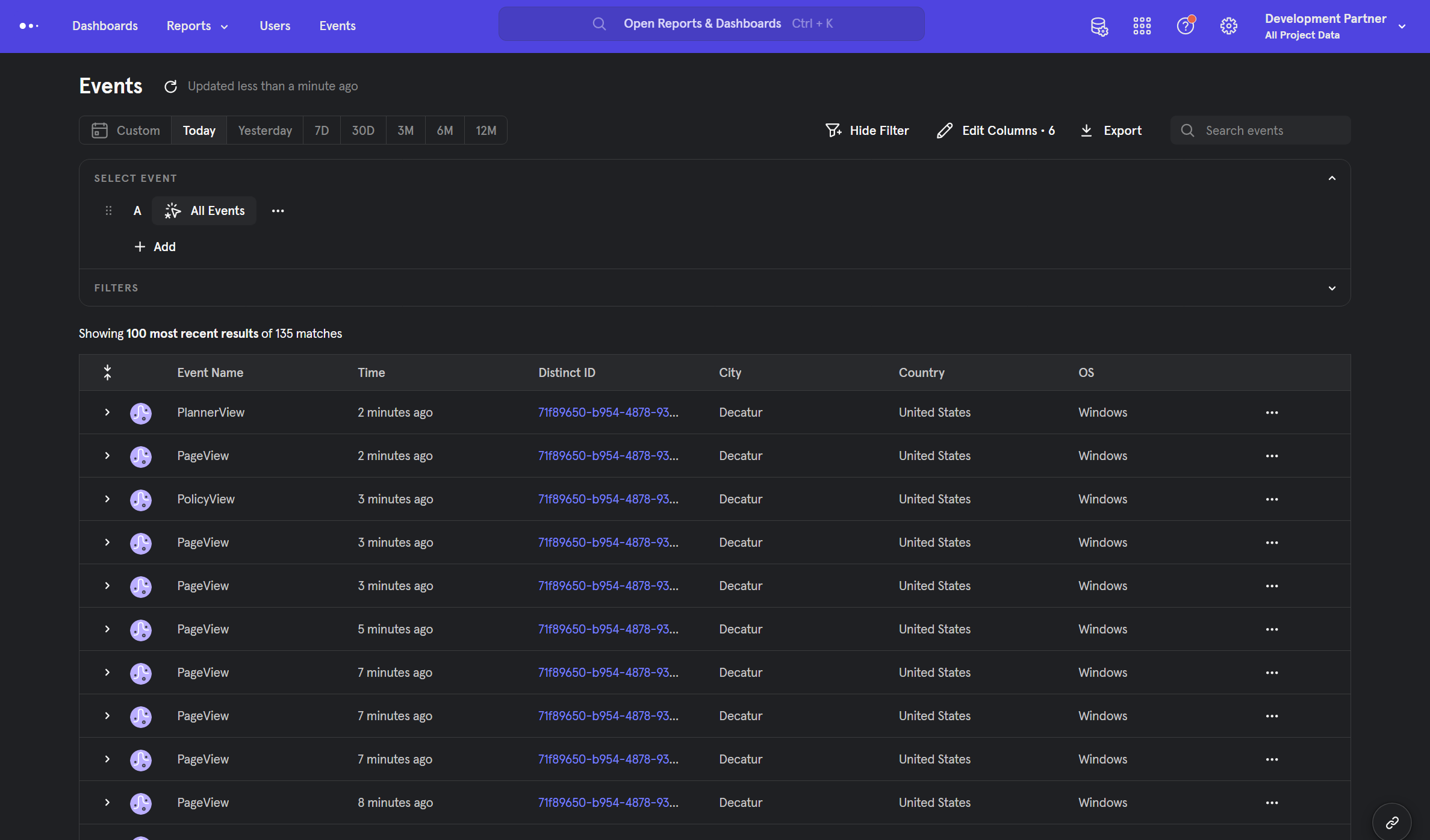 The events CloudRadial captures are:
PageView
ReportProblemView
ReportProblemSubmit
RequestServiceView
RequestServiceSubmit
ArticleView
MessageView
MenuClick
CourseView
CourseEnroll
CourseComplete
QuickStartView
TicketView
TicketNote
TicketSubmit
TicketUpdate
DomainView
CertificateView
EndpointView
ServerView
SoftwareView
NetworkView
DeviceView
SaasView
EndpointServiceView
UserView
LicenseView
PolicyView
AssessmentView
PlannerView
QuoteView
InvoiceView
Each event will include the user's:
Name,
Email
Company
Environment information (browser, screen etc.)
With this data, you'll be able to create Mixpanel dashboards to focus on the information you want to monitor. More information on dashboards is available at: https://help.mixpanel.com/hc/en-us/articles/115004565746