Note to all CloudRadial partners: This feature was introduced on February 21st, 2022. No audit logging data prior to this date has been captured.
The Audit Trail is used to get detailed information on changes that have occurred in the portal within a certain window of time. Depending on the version of CloudRadial you have (Starter, Professional, Enterprise), you may have different lengths of time on your data retention.
You can view the audit trail that takes place within your CloudRadial tenant by navigating to Partner > Security > Audit Trail (tab).
Understanding Audit Logging Information
Audit logging can get very technical because it captures nearly everything that goes on within CloudRadial. Selecting a specific event will shed more light on the exact actions that happened.
Generally speaking, you will see:
The user that initiated the change
The email of the user that initiated the change
The company that the user belongs to
The changes that the user made
The option to revert the changes made by the user
Below is an example of selecting an assessment question update by Jeff: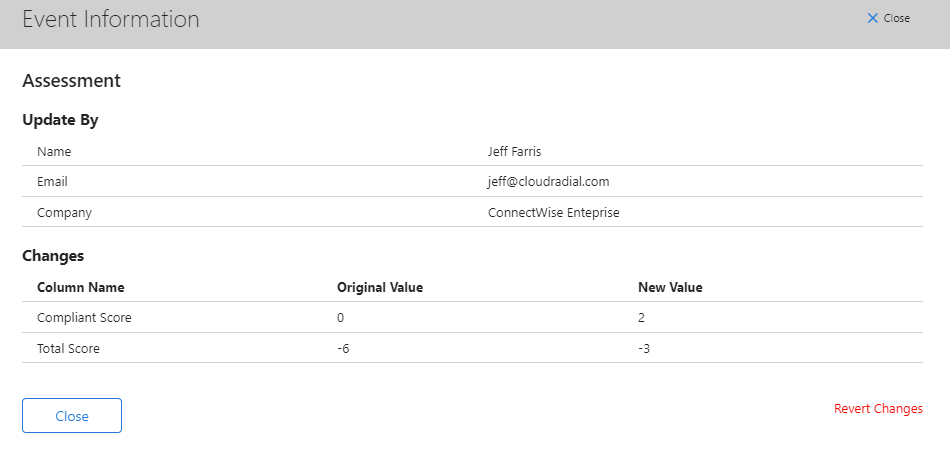 While some changes are initiated by users, others are handled by the job server that provisions changes automatically based on system settings. You can determine who initiated the change at a glance by viewing the right-most column on the audit trail overview screen.
In either case, the revert changes option allows you to override their change system-wide. You will be asked to confirm the reverting of changes.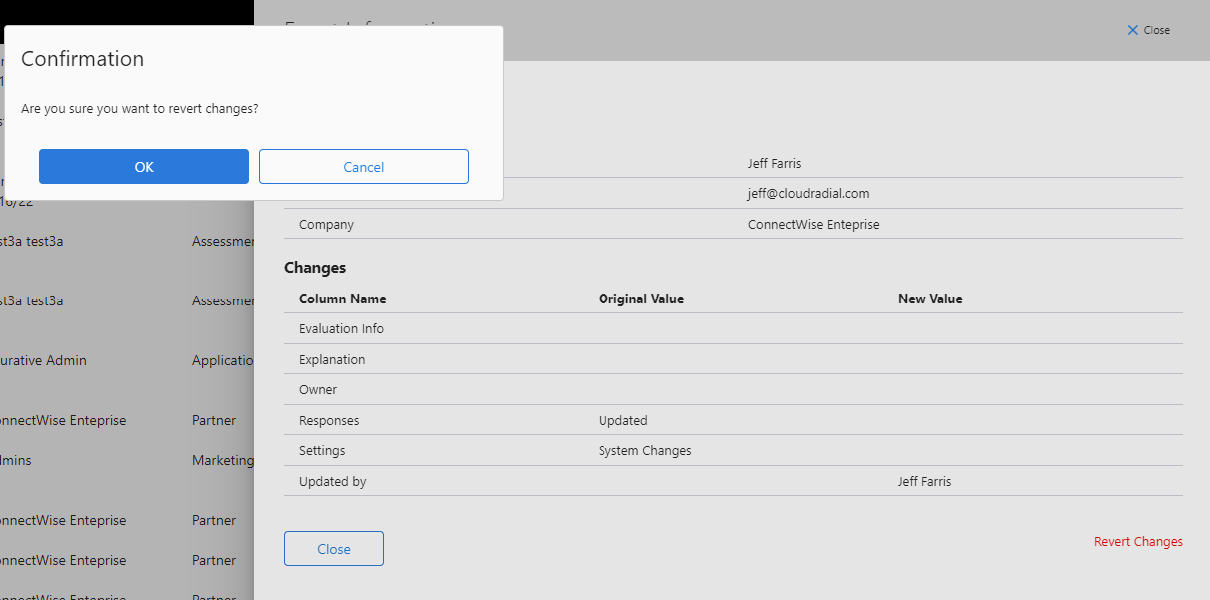 Reverting Content
Aside from the specific audit trail in Partner > Security, you can also find an audit trail area for any given piece of content created inside of Partner > Content.
To check the audit log of a given piece of content:
Navigate to Partner > Content
Select a specific content package
Select the audit logbook from the top navbar
View the audit log of that specific content
Further drilling down and selecting a given change will allow you to revert that change right there and then, rather than having to check the master audit trail under the Security tab.