This update completely changes the way user security works within CloudRadial and adds critical features to support MSPs focused on security, compliance, and co-managed IT including:
New CloudRadial versions

Customizable role-based access security

Session logging and audit trails

Mac data agent for infrastructure

Updated UI
We'll apologize at the outset for the length of this update, but please read carefully as so much has changed.
We're offering two CloudRadial webinars to cover these new features. Please sign up to attend (or watch the recordings). View a recording of the webinar here.
New CloudRadial Versions
Together, these changes along with the other investments we've made in professional services and support lay the foundations for CloudRadial to offer an enterprise-class version of the product tailored to the needs of MSPs who have more complex staff, location, and tenant requirements. CloudRadial is now available in three tiers:
Starter - Designed for the 1-2 person MSP who is just getting started, this version focuses on helping MSPs land the first few clients by showcasing their ability to offer a fresh approach with client-focused reporting and engagement.


Professional - Designed for growing MSPs with a single location, this version organizes all client touchpoints for clients and internal staff to provide a home where everyone "lives" with the client. From streamlining ticketing to automating QBRs, this version is designed to reduce time, staff costs while also helping to land new clients and providing more automated and complete QBRs.


Enterprise - Designed for multi-site and larger MSPs, this version will evolve to address new functionality that is required for these complex requirements.
Existing users have automatically been converted to the Professional version.
Customizable Role-Based Access Security
CloudRadial's old model of security was based on some very generic roles that offered little in the way of customization. The new security model under the new Partner > Security tab replaces that approach with one that is completely customizable.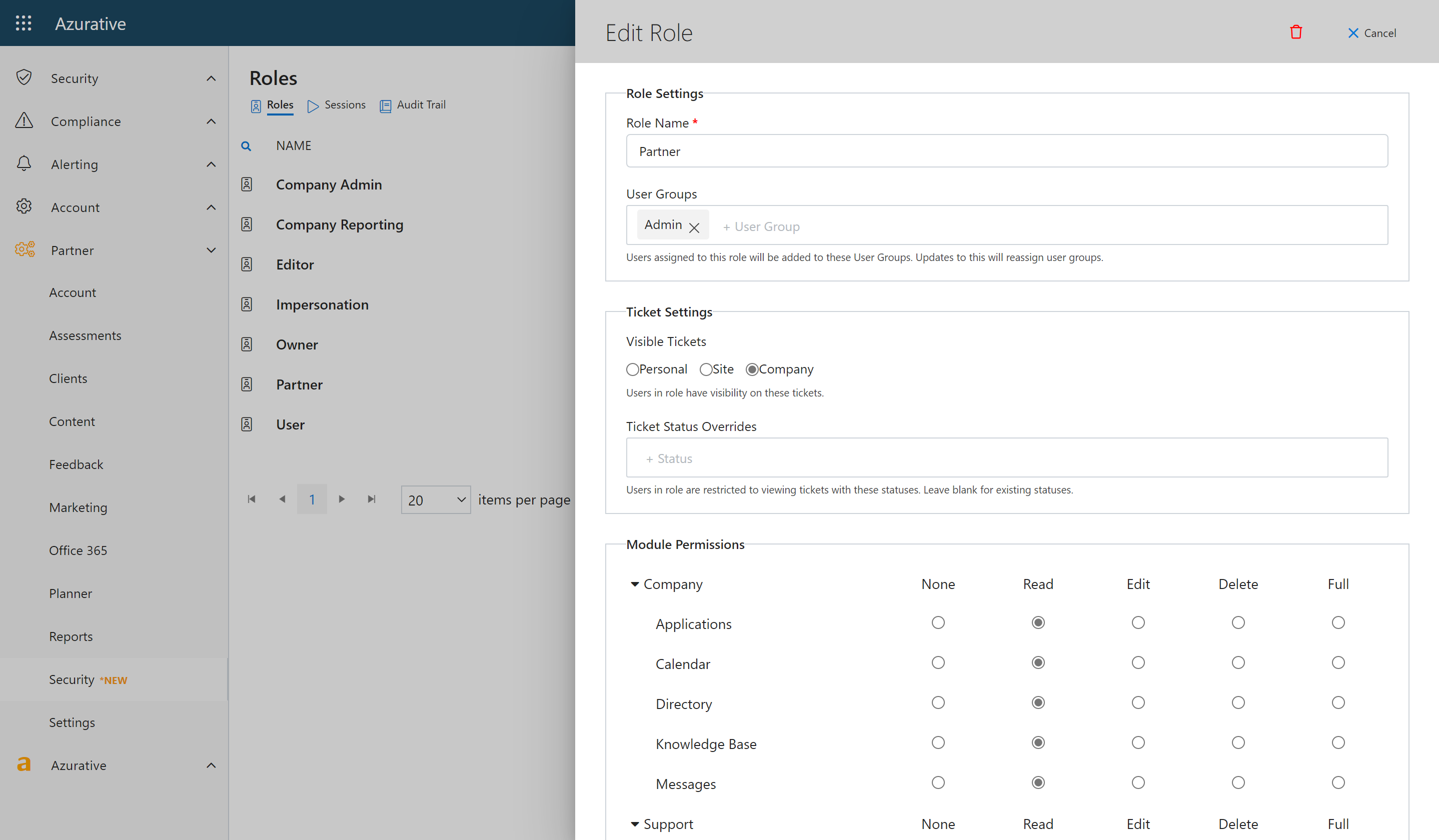 New roles can define granular access to all sidebar modules with five tiers of permissions:
None - No rights to this module and the module won't appear in the sidebar.
Read - View only rights to the content within the module.
Edit - Ability to add content and then edit or delete content they've created.
Delete - Ability to add or edit any company-level content.
Full - Ability to add or edit any content including Partner managed.
One of CloudRadial's strongest features has always been its multi-client content management system that lets partners create unique portals for every client with minimal effort. Additionally, CloudRadial's co-managed approach has let partners allow clients to also add and edit content in their client portals. This had created some issues with who has the right to update certain content.
The release, adds the concept of partner-managed content which defines any content that comes from the Partner's content library or any content the Partner has flagged as "Partner Managed". This allows partners and clients to work in the same content area, such as knowledge base articles, in a way that doesn't let clients change any content provided by partners.
Get more details on this feature: https://radials.io/SecurityRoles
Conversion of Existing Users
Existing CloudRadial tenants have been converted to the new security model and user settings have been mapped into new roles. Certain roles such as "Owner" and "User" are system roles and cannot be edited. But these roles can be used as templates for new roles with the "Save As" option. Users with Limited Admin roles have been assigned a "Custom" role that reflects their limited settings. Ticket restrictions for personal, site and company tickets are now at the role level.
The number of roles allowed is dependent upon the version of CloudRadial.
Role-Based Type Mapping
The concept of roles has also been extended to CloudRadial's Type Mapping feature. This lets you sync users from your PSA into a specific role within CloudRadial to greatly extend the utility of the Office 365 > PSA > CloudRadial sync. Now that Type Mapping is supported in all the PSAs CloudRadial supports, this enhances the ability to drive an end-users CloudRadial experience based on settings from the PSA.
Session Logging and Audit Trails
Under Partner > Security are two additional tabs for Sessions and Audit Trail. These tabs show the logs of user and data record actions and assist partners with meeting higher-end data compliance standards such as ISO 27001. All actions are tracked including user impersonations to track which users made changes and whether they were being impersonated at the time.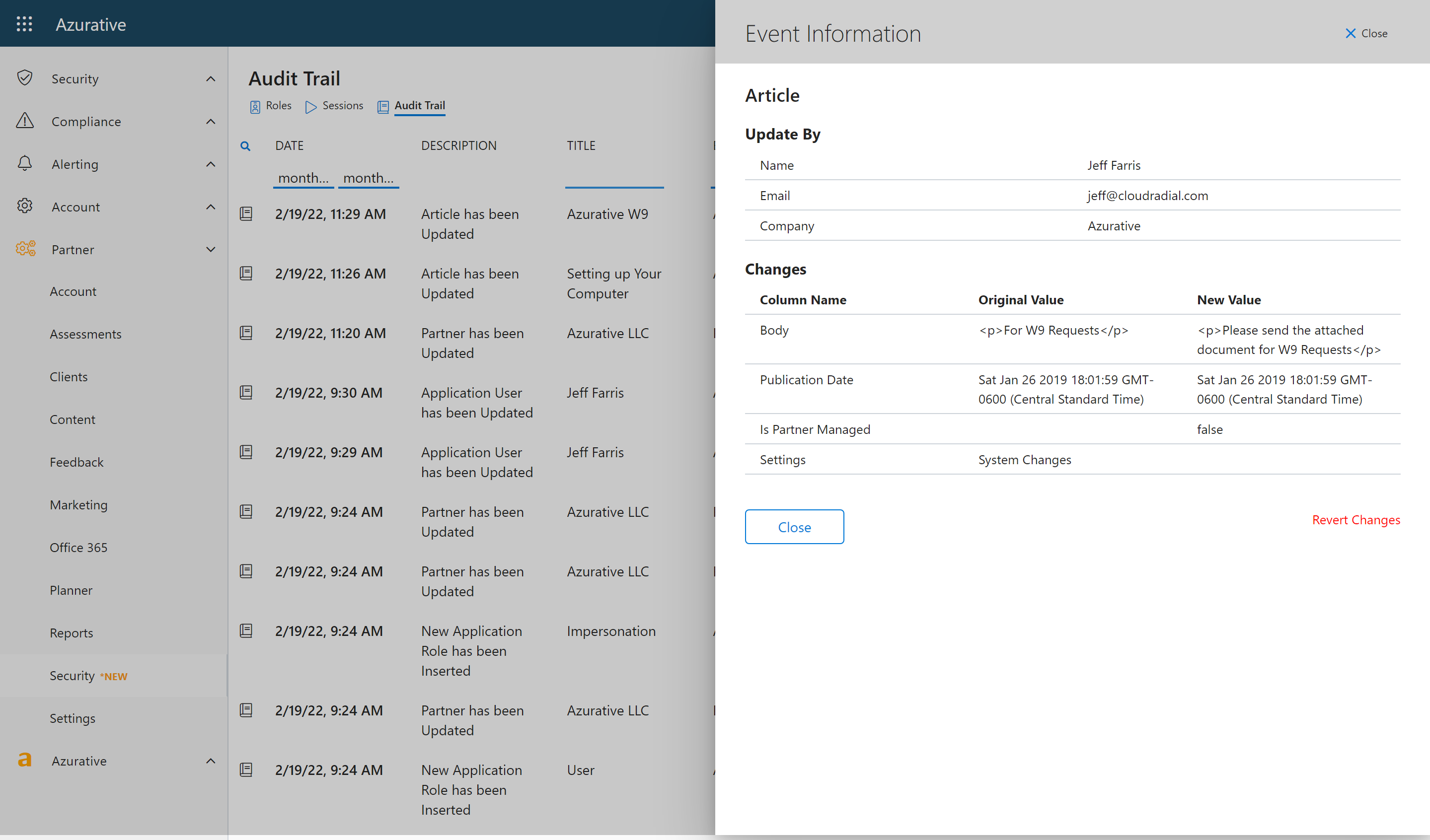 Certain audit log entries allow for reverting changes. A link appears in the lower right corner of the page if reverting is an option. With this option, partners can use audit trails to go back to a previous version of content if needed.
The look-back period for session logging and audit trails is dependent upon the version of CloudRadial.
Get more details on these features: https://radials.io/Sessions and https://radials.io/Logging
Mac Data Agent
The Partner > Clients > Agents tab has been reworked to accommodate the new CloudRadial Mac agent for reporting information to CloudRadial's infrastructure reporting. Use the Agents tab to download a customized agent for each company in your clients list.
Get more details on this feature: https://radials.io/MacAgent
Data Agent Security Key
Though it hasn't been an issue to date for any partner, agent installation now offers the ability to create a unique security key that is required at installation and at agent check-in to validate that the information is coming from a trusted source. Generating and enabling a security key will add the security key to all Windows installers and Mac install scripts. If the security key is enabled, then all existing agents will need to be rebuilt and redeployed.
Updated UI
Windows 11 brought a number of subtle changes to Windows applications including rounded corners and more consistent color palettes. These changes are also being brought into Microsoft's cloud applications as well. To keep pace with those changes, the CloudRadial UI has been tweaked for:
Rounded corners
A softer and cleaner Default theme
Much darker Teams (Dark) theme
Better contrast and highlighting of search and other key areas
The updated UI also now addresses a popular feature request to make support home menu items the same size as the default support home items.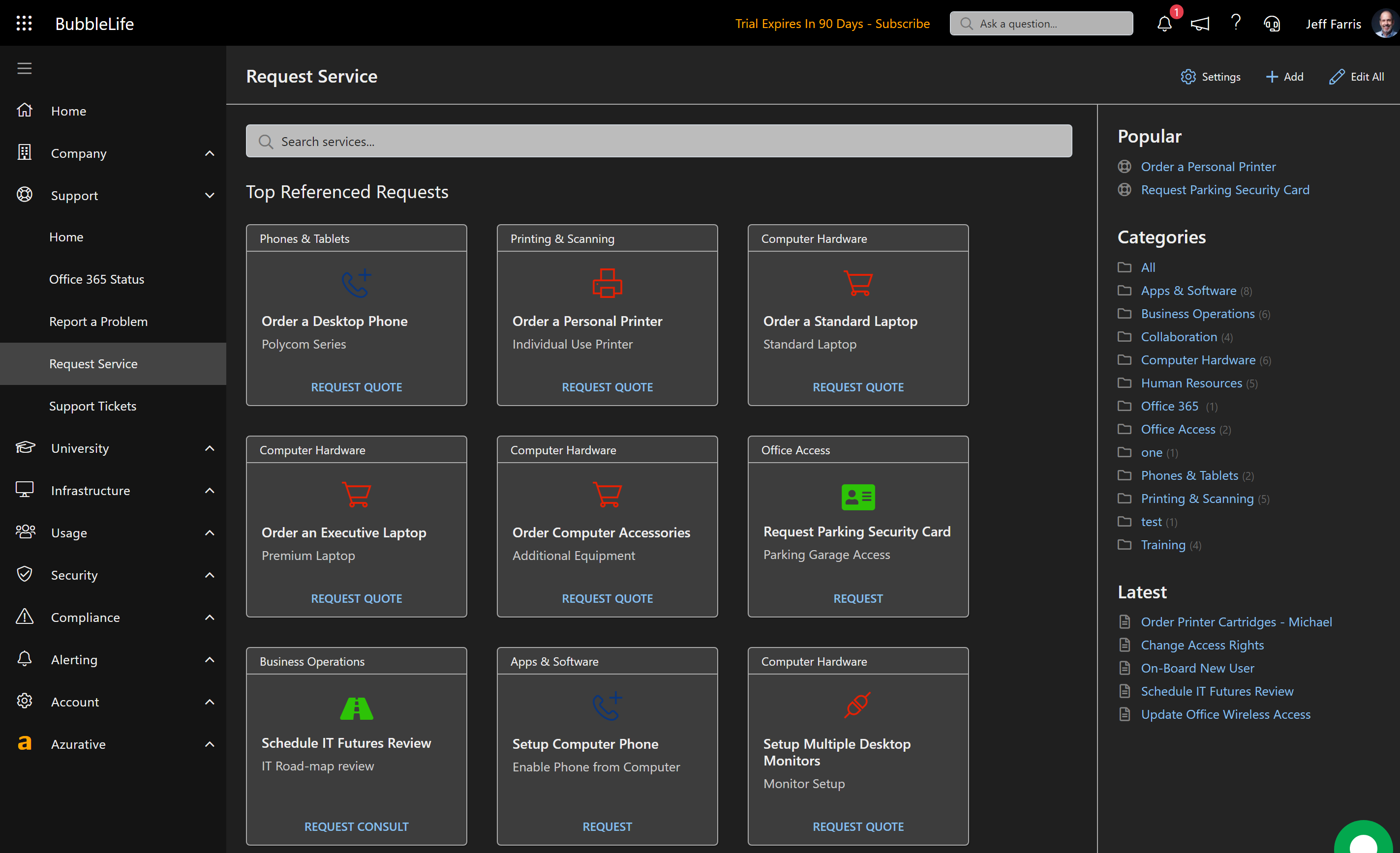 Other Changes
The Microsoft Cloud Agreement approvals have outlived their usefulness and those settings and prompts have been removed.