CloudRadial continues to evolve with new features for service, account management, and co-managed collaboration. In addition, we have rolled new professional services to help partners get CloudRadial implemented faster. These professional services complement our Academy and other free resources with an extra level of white-glove support. Read more about professional services.
New Features Summary
This latest release adds new features and changes existing features including:
Status Workflows - This new feature allows for complete customization of the ticket view dropdown to allow for custom options including for co-managed situations.
Windows 11 Readiness - Start the discussion with clients on future-proofing their infrastructure by assessing readiness for the Windows 11 upgrade.
New Policies - Detect and flag more issues for a client presentation or internal alerting.
And much more including Hudu & Liongard integration, training reporting by students, and client-facing report downloads!
Status Workflows
When a client displays a ticket, CloudRadial presents a list of dropdown options to allow users to change statuses through actions such as close, reopen or approve. With the new Status Workflows option, you can now construct custom options down to the client level. With Status Workflows, you can set up more sophisticated options for approvals, routing, and escalation. You can define workflows globally at the partner level or create custom workflows at the company level.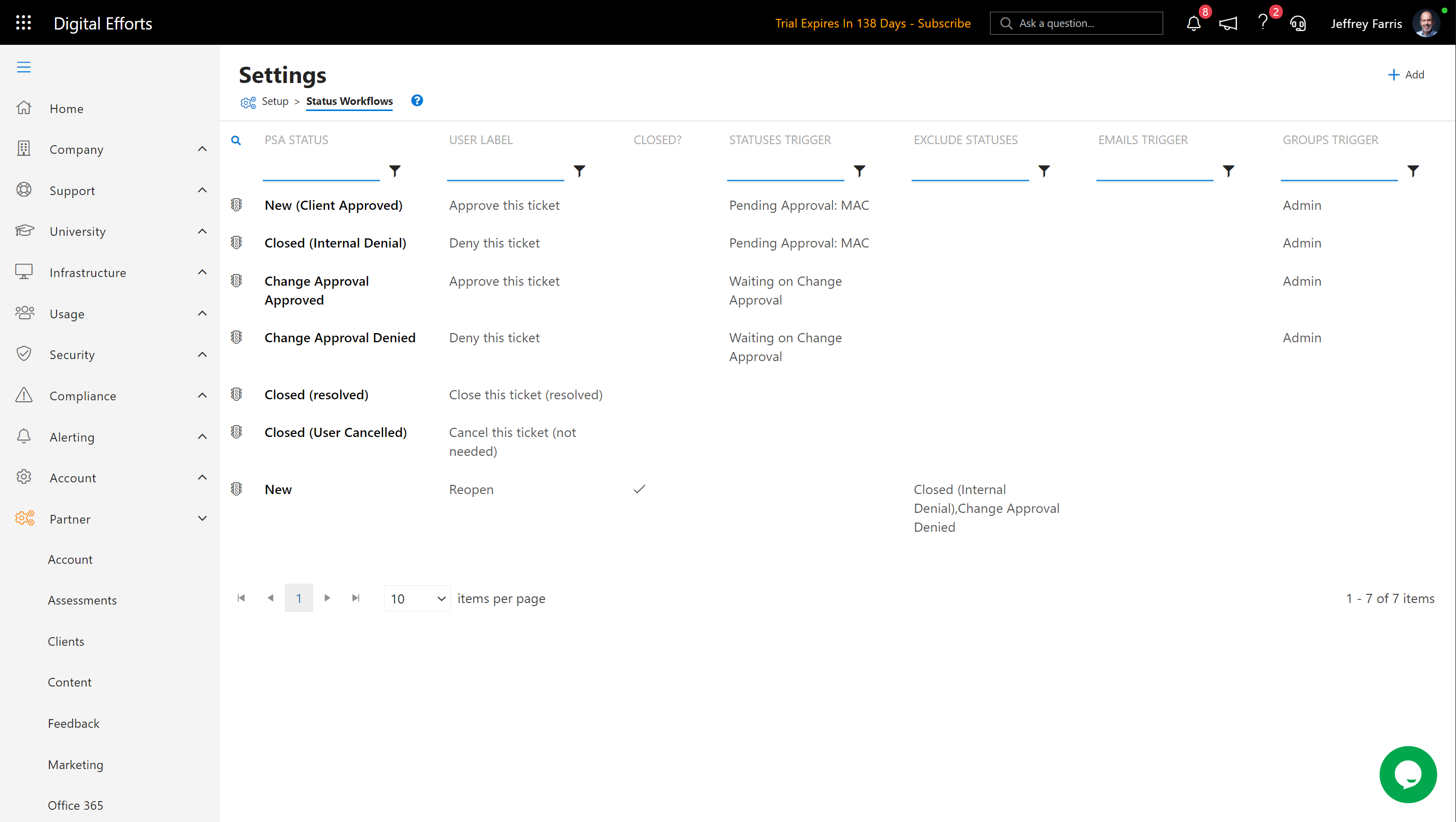 To learn more about using Status Workflows, read here for more information.
Important: These new settings replace the existing approval settings previously found under the PSA settings. To see how these settings were converted, read here for more information.
Updated Agent / Windows 11 Readiness
Windows 11 presents not only service challenges but also new opportunities to talk to clients about improving productivity and collaboration with modern capabilities. CloudRadial highlights this opportunity through Windows 11 readiness reporting in:
Endpoint reporting
Endpoint charting
Dashboard widget
Policy alert
To facilitate the collection of the UEFI and TPM information, an updated agent version 1.5 is now available that brings in this additional information.
For more information on updating your agents, please read here.
New Policies
To support Windows 11 readiness and other new features, new policies have been added for:
Minimum system memory
Minimum system monitor count
Report archive errors
Users need required courses or course expiration renewals
Is managed by Intune
Windows 11 Readiness
Windows Defender Enabled
Windows Defender AV update
Windows Defender Spyware update
Windows Defender Full Scan
Windows Defender Quick Scan
In addition, policy exceptions now appear when viewing individual endpoints, servers, software, and users. These new policies require the latest version of the data agent.
Hudu Integration
Hudu has become a fast-growing and popular option for documentation. CloudRadial now supports pulling articles directly via API so that your Hudu documents can be easily mixed into your CloudRadial content library. For more information on integrating Hudu, please read here.

Liongard Integration Preview
Liongard collects a wealth of information and presenting it in CloudRadial is a great opportunity to turn the data you collect into more client transparency, trust, and sales. In this first release, we support displaying Veeam and BitDefender information to clients. For more information on Liongard integration, please read here.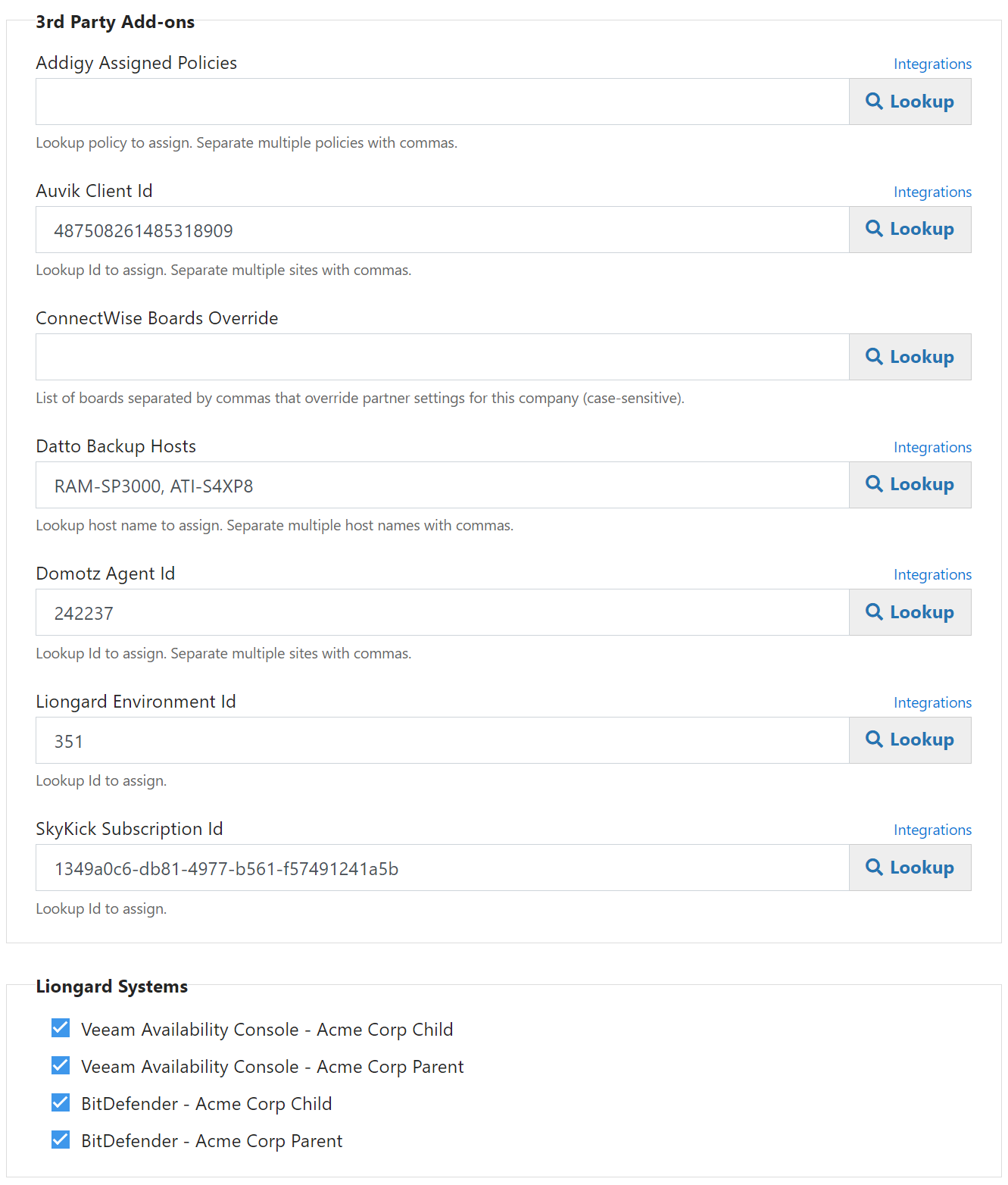 Liongard support is in preview. Please direct questions and comments to support@cloudradial.com.
Student Training Report
Bigger Brains courses and client training have become one of CloudRadial's most adopted features. A new report that helps show student completion is now available under the Compliance Training tab.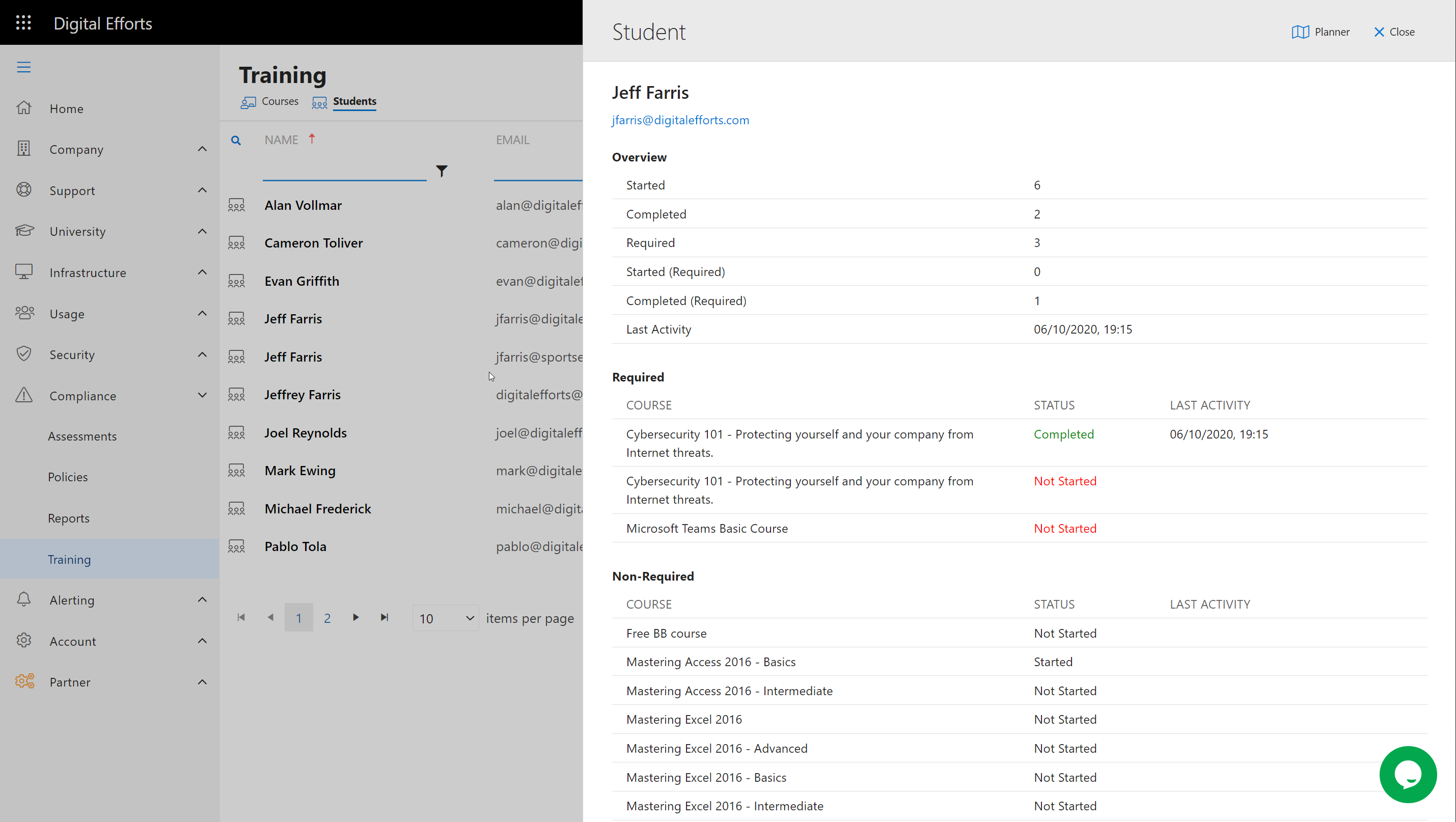 For more information on Bigger Brains courses, please read here.
Client Reports Presentation
For a long time, there has been a client-facing checkbox in the Report Layouts section for PDF reports. This checkbox is now active and reports are shown under the new Account Reports option for clients.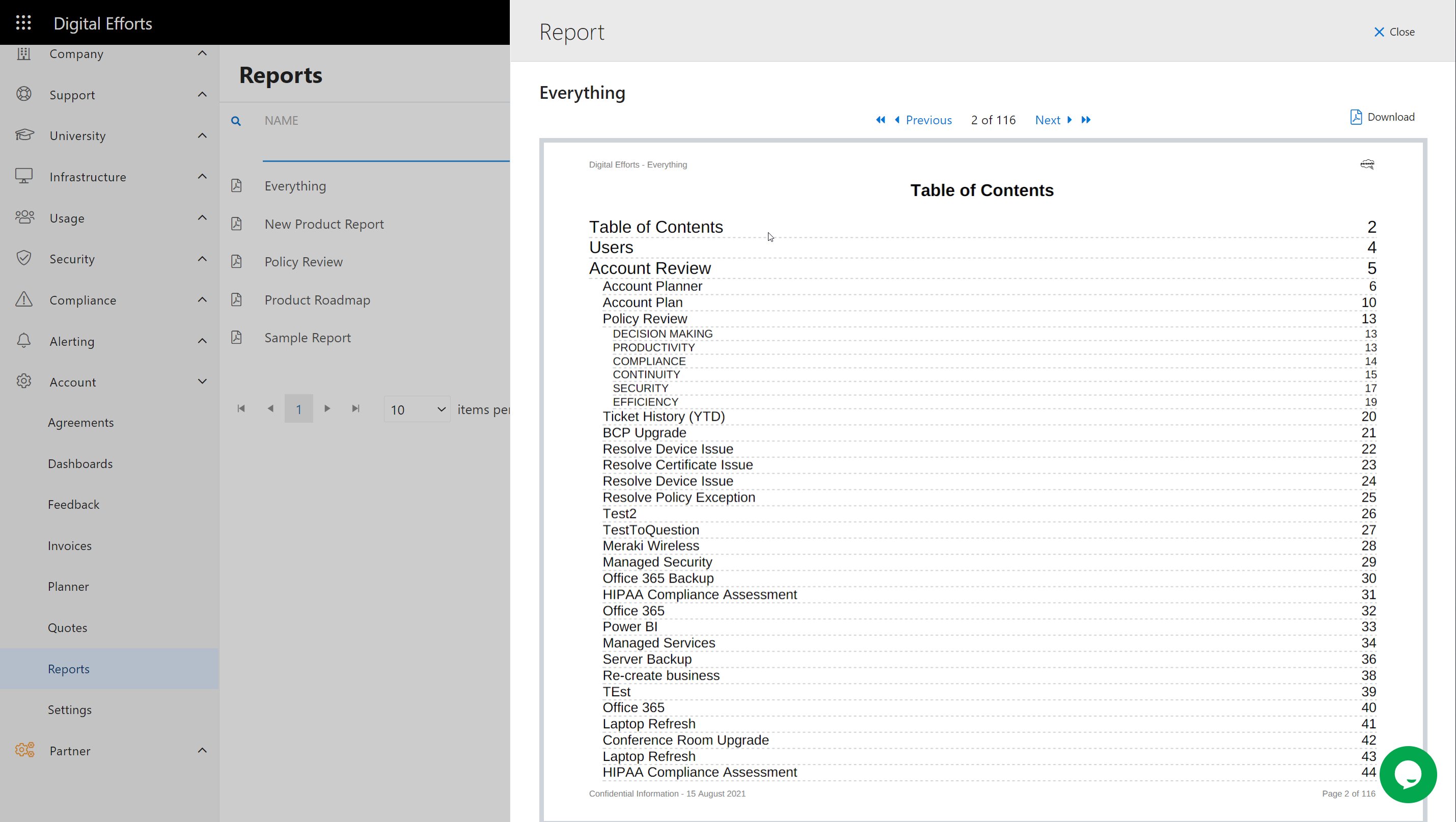 Other Improvements
Now showing the current version of client data agents under Partner Clients Agents. Older agents will automatically update after being deployed or you can go to Partner Account Labs in order to rebuild all data agents to the current version.
Endpoints now feature a Security tab for Windows Defender information if available.
Policy hints are now shown for required parameters.
Increased backend resources for improved job performance.
Improved PDF viewer performance and now supports internal links.
Bug Fixes
Resolved issue with CloudRadial feedback not posting back to SmileBack.
Resolved issue with Syncro syncing to allow better performance.
Fixed issue where Autotask API was limiting the ability to have a large number of child companies.