CloudRadial has proven to be a powerful platform for landing and growing clients.
But, we've found that this power requires time that is often in short supply. That's why we are working to make sure that CloudRadial remains not only the most powerful platform but also the one that gets you the fastest results. Recent updates include:
New CloudRadial Programs: Bootcamp & Jumpstart
Sales Matrix Spreadsheet View
Software Reporting
Endpoint Mapping
SmileBack Integration
We are Committed to Your Success
Last year, we launched our Academy, greatly expanded our support knowledge base, and created a peer-supported Community. Recently, we've launched our how-to series covering our Land, Onboard, Manage & Grow approach.
These four guides and associated webinars walk you through implementation step-by-step. But time to take advantage of all this is still the biggest obstacle most MSPs face. So, we are launching CloudRadial Professional Services to help you get accelerated even faster.
These two new programs are ideal for either new or existing clients:
Bootcamp - A structured course starting at the first of every month where you go through homework, four group-based one-hour online sessions, and peer discussions to ensure that you are a CloudRadial master at the end. Whether you are just starting out with CloudRadial or need to get a staff member up-to-speed, the Bootcamp will get you there. Pricing is $395.


Jumpstart - Sometimes, you just need an extra set of hands or an expert coach to make sure you don't waste time. Jumpstart gives you a block of four hours to use as you need. Pricing is $595.

Common use cases include:

Creating assessments
Building out tickets
Structuring content for scalability
Developing a QBR plan
Creating policies
A regular kick in the butt to get going in general
...or whatever else you may need!
For more information on both new programs, visit https://www.cloudradial.com/professional-services
Sales Matrix Spreadsheet View
The CloudRadial sales matrix report is one of the most powerful reporting tools for ensuring consistency across clients. However, it previously required a download to Excel in order to see the results.
This update now allows you to see that spreadsheet online without requiring a download.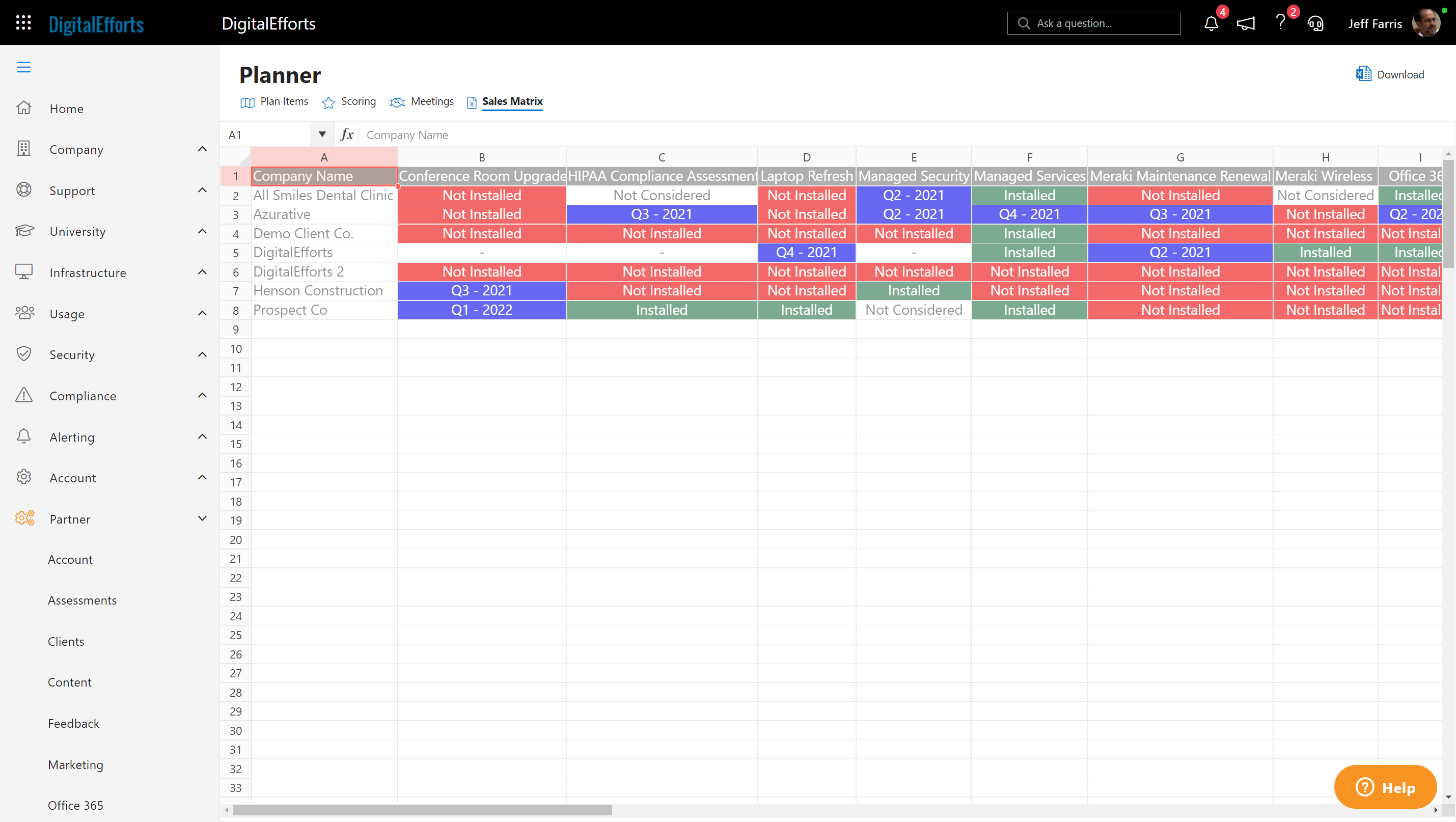 Software Reporting
Out-of-date and EOL software is not only a security risk, but it's also a sales opportunity.
To help you better identify those opportunities, CloudRadial now includes a Software report under Partner > Reports. From there you can research installations, identity affected clients, and jump to the client to create a planner card for discussion.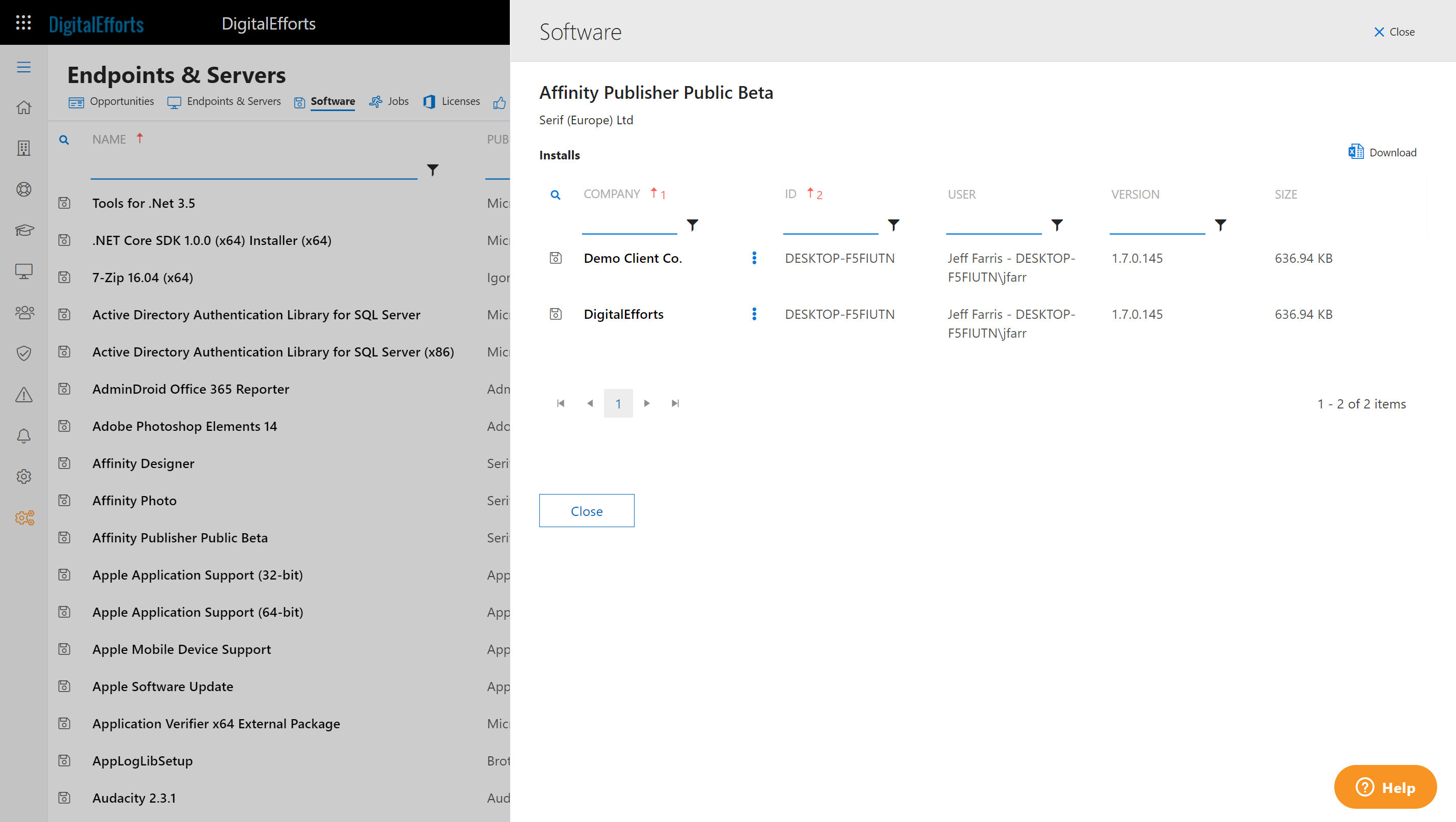 Endpoint Mapping
With mobile workers and distributed workforces, many clients find value in knowing where all of their endpoints are located. With the new Endpoint mapping feature, it's easy to show them.
Plus, you'll have a map of all endpoints at the Partner level under Partner Reporting. For more information - read this support article.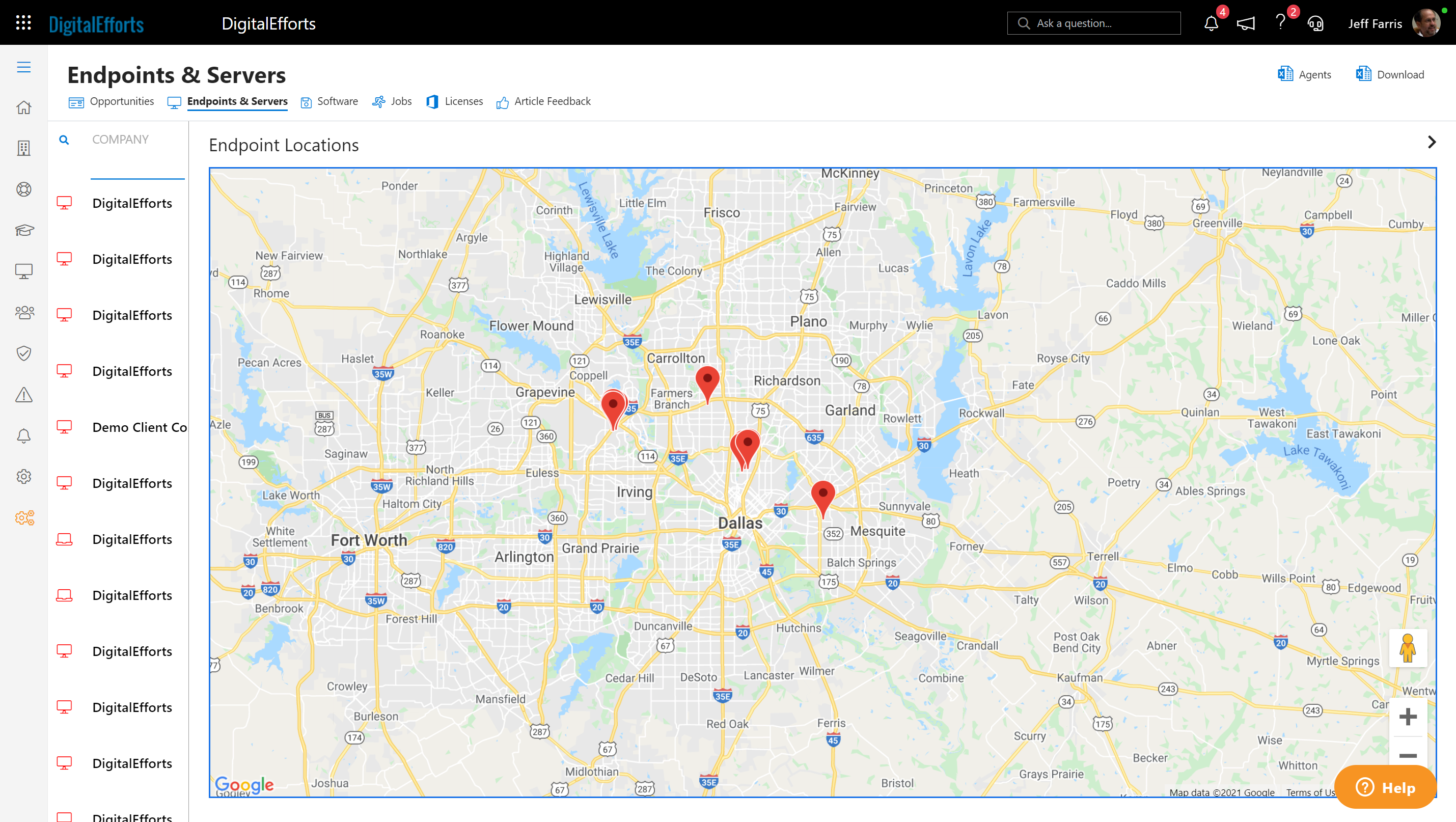 SmileBack Integration
We've heard from many of our partners, who were already using SmileBack, that they wanted to see SmileBack tightly integrated with CloudRadial. SmileBack has added support in their product and we've added support in our product so that now SmileBack and CloudRadial work seamlessly together.
More information is available from SmileBack.
Other Improvements
Updated the desktop application to version 3.5.
For Autotask, updated to the Autotask REST API. This speeds numerous functions and allows ticket charts to fully render.
For ConnectWise - Allowed configuration of the ConnectWise Communication Types under Partner Settings -> PSA.
Thanks to Mark Copeman with Helpdesk Habits, the community now has the full first course for free. Download the content here https://radials.io/helpdeskhabits.
Added support to enter expiration dates for Australian domain names
Added California Sexual Harassment courses to Bigger Brains upgraded training packages.
Bug Fixes
Fixed feedback logging issues with Syncro PSA.
Fixed issuing reporting on AMD processors in performance reporting.
Join the List
To stay alert to issues with CloudRadial, be sure and subscribe to our status page at https://status.cloudradial.net