The latest updates to CloudRadial focus on bringing the integrated resources of CloudRadial together for the benefit of you and your users.
Fastpath Ticketing
One of the questions we frequently hear is: "How do we get users to use the portal rather than just email like before?" Fastpath is designed to give you the reason why. Though it takes a few seconds longer to submit a ticket through the portal that to just email, the benefit to the user is that they can get their problem solved faster.
It's the difference between MTTT (mean time to ticket) vs MTTR (mean time to resolution). With Fastpath, you can direct users to the right forms and resources or to an external article source like Microsoft's support knowledge base. More information on the concept was presented in our recent product update.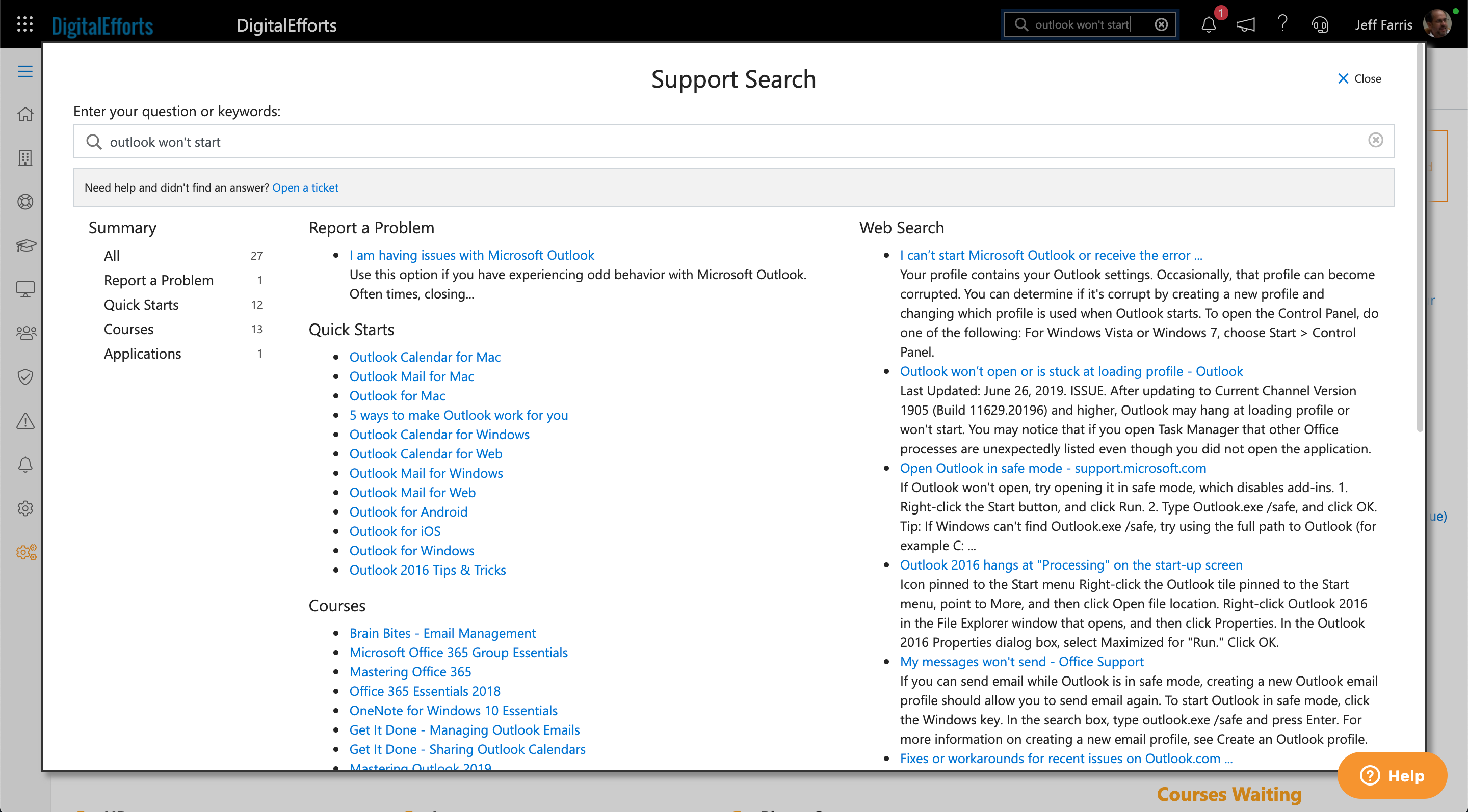 More Ticketing Options
CloudRadial's dynamic ticket forms help capture the right information from users and the new update provides more control over the way the tickets come in and the ways you can use that information.
Ability to turn off descriptions and comment fields from submissions
Support for JSON webhooks when submitting a ticket so that you can route information to other services
Support for unique JSON field IDs so you uniquely identify a response in your webhook
Support for creating PowerShell scripts from a combination of Tokens and JSON field IDs so you can create a ready-to-run script populated with the right information. CloudRadial won't run the script, but this eliminates the copy/paste often required when creating one.
More information on using JSON webhooks is available here.
Updated Desktop
Version 3 of CloudRadial's desktop application is now in preview. Version 3 features:
Sticky notifications
Customizable hotkey support for activation
Auto-log in for local Active Directory
Auto-log in for Azure Active Directory users
Reduced memory usage
Improved screen capture
Attached diagnostics
Improved usage for remote desktop users
Browser protocol support so you can launch the desktop from email and browser links
The preview version is available under Partner Settings > Desktop Application.
Other Improvements
Partner Favicon - You can now set the favicon that appears in the browser window of your web portal under Partner > Settings > Account & Branding.
Microsoft Surface Warranty - We now can now obtain warranty information from Surface devices like we do currently for HP, Lenovo and Dell.
Autotask Settings Cache - Cached settings for Autotask to improve speed. Any changes to Autotask statuses, etc. now require that the Autotask cache be cleared in CloudRadial under Partner > Settings.
Log In Help Link - Added an option to set a link and text to your website's portal help page. Settings are under Partner > Settings > Account & Branding.
Notifications Display - Added navigation bar icon to open recent notifications display.
Package Identification - Show source of content in Edit window when content is subscribed.
Date Range - Added date range to ticket displays to show which tickets are filtered based on Search options.
IP Restrictions - Added managed FQDN for managing restricted IP lists. Settings under Partner Account.
Private Attachments - Added support so that ConnectWise ticket attachments marked as private (show in Client Portal) do not display in the ticket notes.
Bug Fixes
Limited number of popup toast messages to 4 so that they don't overwhelm the screen.
Added testing to ensure that feedback does not originate from email link testing.
Fixed issued where published Quick Starts were removed and required republishing.