This update introduces dashboards, our new partner community and continues CloudRadial's goal to create an integrated client experience for your end users and an integrated account management platform for your team. We are seeing CloudRadial not only enhance existing client reporting tools, but also often replace those tools to reduce your overall 3rd party subscription charges.
Dashboards
CloudRadial dashboards combines the power of graphic data presentation with our unique content platform to allow you to provide an easily scalable way to deliver easily scalable dashboards to clients.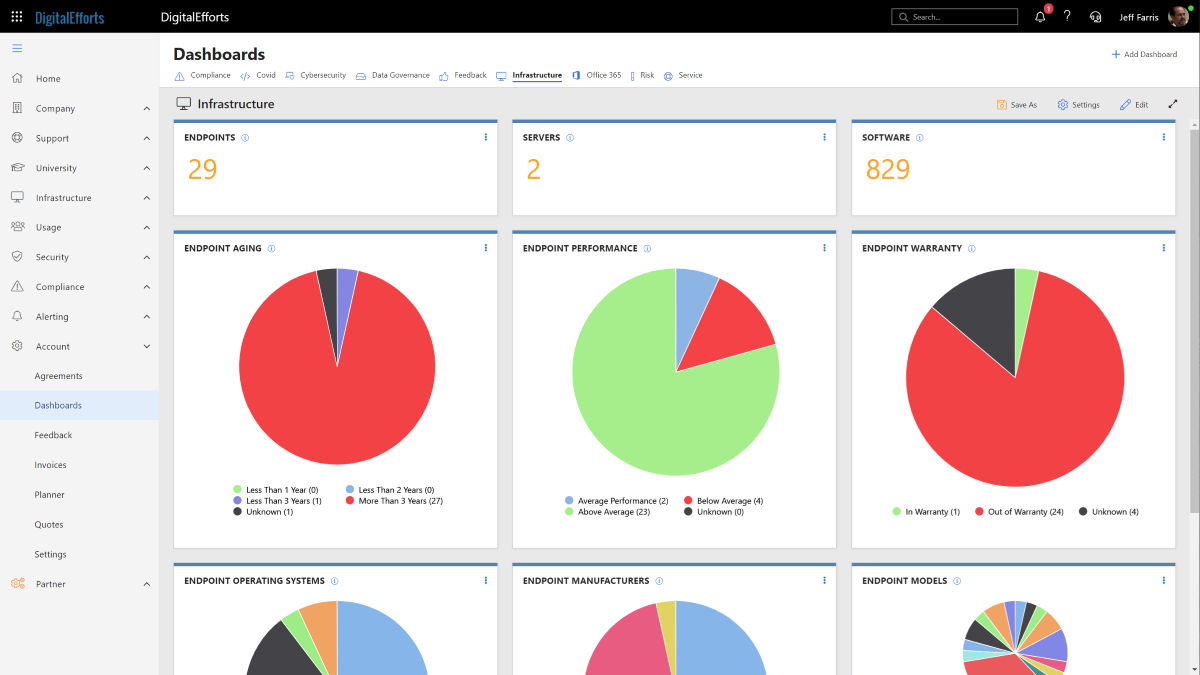 Sample Dashboards in the Community
We have created a sample set of dashboards for Compliance, Cybersecurity, Data Governance, Infrastructure, Risk, Customer Satisfaction and Service which you download from the community - Please read the next section to learn how to create your account. Once you have your community account setup, Click here to download sample dashboards.
For more information on using dashboards, please view this article.
CloudRadial Community
CloudRadial has evolved rapidly because of the great feedback we receive from our partners. Now, we are opening up a community so that all of our partners can benefit from the everyone else's experience.
The focus of the CloudRadial community is all things account management. This includes subjects such as improving QBRs and account planning, streamline ticketing, managing your service catalog, providing reports to clients, creating effective communications, developing add-on services and much more.
The community now gives us four solid platforms to engage with our partners:
Community

- Partner-to-partner and CloudRadial discussions and content sharing. Membership is open to anyone but requires approval.

Support

- CloudRadial product documentation and direct support from our support staff. Open to clients and those evaluating the product.

Feature Requests

- Product suggestions and roadmap where partners can provide and vote on open feature requests. Accessible from the Partner Account page for paid subscribers only.

Academy

- (coming soon!) Organized product training resources to help your team master CloudRadial for the benefit of you and your team.
Membership in the community is free but does require approval. Even partners not using CloudRadial are welcome to join (are there any left?).
Enhanced Synchronization
Keeping an accurate contact list for a client is a constant challenge. Fortunately, CloudRadial's synchronization between PSA, 365 and CloudRadial makes it easier. But, we felt it could still be better. So this release also enhance our sync process and adds full support for Kaseya BMS and Syncro syncs as well. Enhancements include:
Enhanced speed
Logging
Custom field updates
Improved handling for sites/child companies
365 alternate email matching
For more information on synchronization, please see this support article.
Breaking Changes
Users have the ability to update their Microsoft Office personal details by clicking on the pencil icon on their profile page. However, the PowerShell script previously subscribed was too restrictive. Please see this article to address - https://radials.io/userreadwrite
Desktop application has been updated to version 2.0.1 and the installers have been rebuilt. This version fixes a bug on trying to close or open the application from the tray icon and turns off automatic update to avoid confusion with the installer popup. Updates can now be manually requested by the user. Version 2.0.1 will be put into public updates on May 15 to allow time for updates to be pushed out via RMM or other methods.
Other Improvements
Added the ability to hide invoice balances for ConnectWise.
Added the account manager to the scoring and meeting partner reports.
Added the ability to copy a question template.
Added advisory for custom CNAME pointing to an older path.
Added Account Manager and Territory data to clients from Autotask accounts.
Bug Fixes
Fixed bug with Bigger Brains content where "X" button did not close the window.
Fixed bug where SSD report under endpoint reporting didn't match the policy reporting.
Fixed bug where OneDrive Personal would show policy errors when not connected.
Fixed bug where Quoter integration would show non-Quoter PDFs.
Fixed bug where URL provided by QuoteWerks opened the partner facing page rather than the client page.
Fixed bug where course certificates could not be downloaded from the desktop application.
Fixed bug when filtering by antivirus under Endpoint Security report.
Fixed bug where PDF links weren't clickable in the PDF viewer.