CloudRadial continues to innovate as the leading (and only) Integrated Account Management Platform. It delivers the ultimate client portal for engaging and managing MSP and CSP clients. This update brings new features to help you leverage CloudRadial for improved client training, reporting and deployment including:
Bigger Brains Training Courses
Addigy Integration
FastTrack & Deployment Assistance
And, as always, this update continues to add new features that address various needs identified by our partners.
Bigger Brains Training Courses
Bigger Brains content has consistently been voted to be the best in eLearning content. Now, you can seamlessly integrate these award-winning courses into your CloudRadial portal. Bigger Brains is fully integrated with both the CloudRadial university and training reporting, and requires no additional logins or external configuration. Featuring over 60 up-to-date courses on Office 365 and over 40 courses on business, application and workplace issues, the Bigger Brains content is an easy addition to any CloudRadial portal.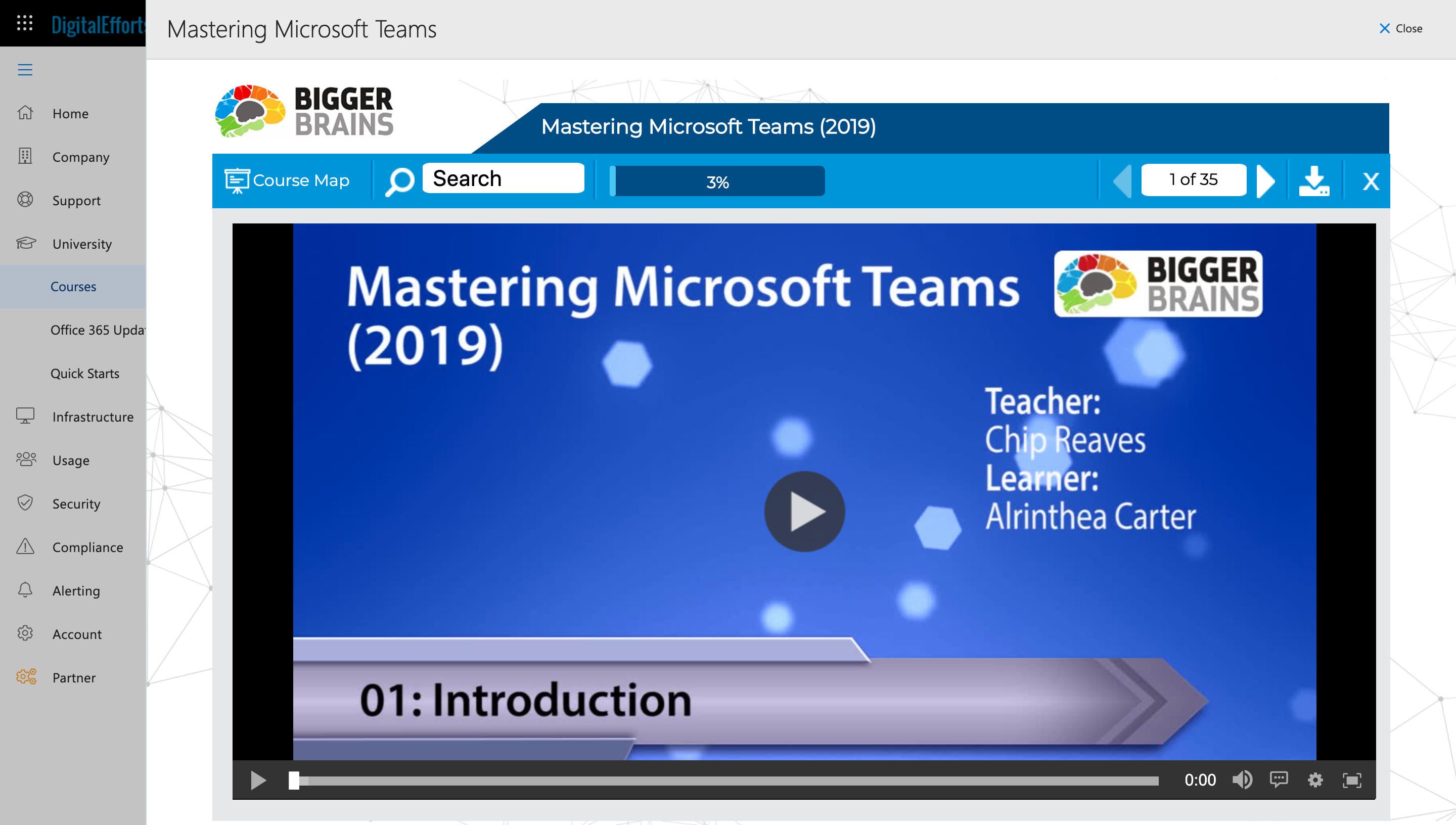 Bigger Brains requires a paid subscription to CloudRadial and introductory pricing is just $50 for up to 200 users added to your monthly bill with no other 3rd-party licensing. You can add on additional Bigger Brains users for just $25 per 100 users and you'll have complete control over which companies are enabled for access.
To add Bigger Brains to your subscription, contact us at sales@cloudradial.com. For more information on integrating Bigger Brains with CloudRadial, please see this support article.
Mac Infrastructure Reporting with Addigy Integration
Addigy has rapidly become one of the leading Mac support tools for MSPs. With the latest updates, CloudRadial now integrates directly with the Addigy APIs to bring Mac endpoint information directly into a client's infrastructure reporting without the need for a separate agent.
You can now automatically report on and create policy exceptions for Mac computers. With the ability to allocate policies based on specific companies or company groups, CloudRadial makes it easy to create reporting custom designed for your Mac-oriented clients.
For more information on Addigy integration, please see this support article.
Implementation Blueprint
Deploying CloudRadial can be a challenge when you lack the confidence or resources to move forward. To get you started faster, we now offer a comprehensive deployment blueprint that provides a best-practices roll-out strategy along with the resources you'll need along the way.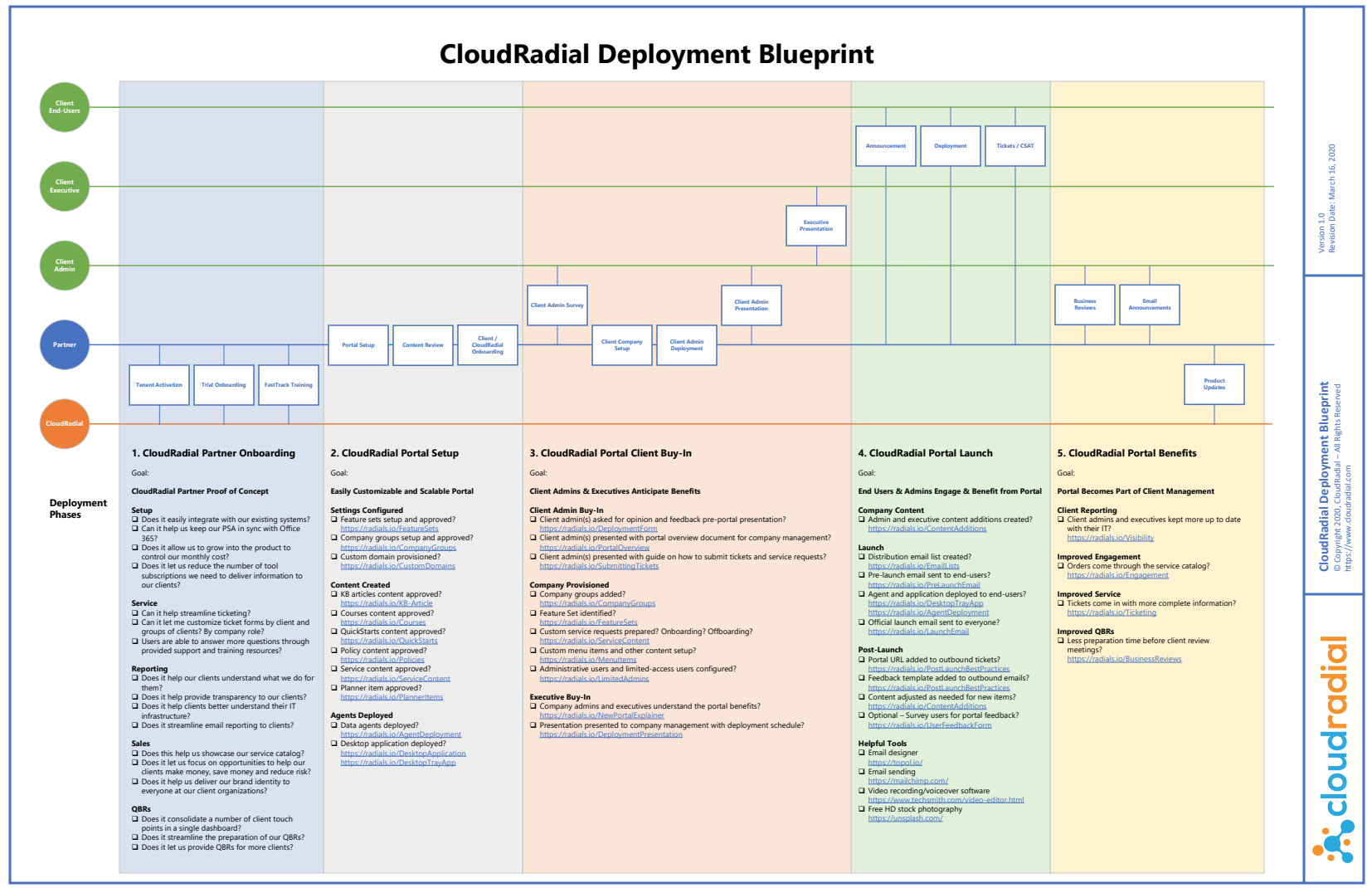 The deployment blueprint complements CloudRadial's FastTrack program to help clients get started faster and with more confidence.
For more information on the blueprint and to download, please see this support article.
For more information on the CloudRadial FastTrack program, please visit https://www.cloudradial.com/fasttrack.
Other Improvements
Added the ability to edit the left sidebar text and selected icons on the support page.
Added support for policies by operating system.
Added preliminary support for Kaseya BMS.
Added option to disable user options to close or cancel tickets.
Added the ability to manage which courses show on the courses initial page.
Made the progress bar more visible across the top of the page.
Added the ability to use tokens in articles - more info.
Added the ability to use tokens in the chat link.
Added Microsoft Customer Agreements to list of available partner agreements.
Bug Fixes
Sped up publishing for a large number of companies.
Fix issue where editor CSS wasn't being applied to content.
Fixed bug where ConnectWise API changed and resulting in issues with contact types.