The team at CloudRadial is excited to announce our new desktop tray application that puts the power of your client portal just one click away from your users. To learn more and get started check out http://radials.io/TrayApp.
Desktop Tray Application
The new tray application provides the same client portal website experience and offers these additional advantages:
Enables execution of local PC applications.
Adds configuration information to client tickets for ConnectWise and Autotask.
Allows users to easily add a screenshot of all their active monitors to a ticket.
Provides a self-renewing login token to provide an always connected portal after the first login.
Custom portal icon and links for the application and the tray icon.
Video Preview
For a preview of its operation, please see this demo video: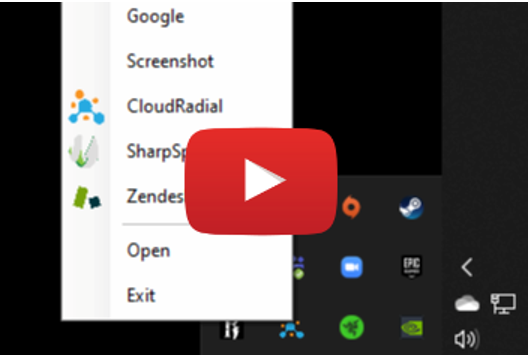 Thanks to Our Partners
A special thanks to those partners who participated in the beta process. This release includes numerous enhancements based on your feedback.
This application and CloudRadial are continuing to improve with your help. As always, please feel free to provide feedback to support@cloudradial.com or on our Product Roadmap accessible from your Partner Account page.
Beta Update Information
For those upgrading from the beta program, you will need to build your custom installer using the information in the article above and redeploy to your test users. This production ready release includes the following fixes from the beta:
Desktop and taskbar icons are configured at install with the custom installer.
The tray title and icon are now both configurable.
Custom links are now configurable by both User Group and Company Group.
Custom links are now accessible at the company level.
Toolbar now appears for links presented there.
Screenshots can now be added to an existing ticket.
Tooltips may be set on custom links.
Installs custom desktop icon during install.
App moves to the front or blinks when clicked from tray or desktop link.