Microsoft Partner Setup
It hasn't been long since our last update, but we've completely revamped our data collection from Office 365 to be in line with Microsoft's new Partner security requirements effective today. What this means from the last update is:
You will need to rerun your Microsoft Partner setup under CloudRadial's Partner Settings tab. This process has you run a PowerShell script that reinstalls the application we used previously. This adds an additional access right to enable MFA reporting. More information on this is available here: https://radials.io/partnersetup.
Everything is now handled through this partner-level multi-tenant application including access to your clients through delegated credentials.
We no longer use PowerShell in CloudRadial to collect any information. This eliminates the need to have user credentials stored in our system. We are deleting any credentials you have stored with us previously.
MFA reporting will now require at least one Azure AD P1 license in a client's tenant. MFA reporting now shows you whether the user account has completed MFA registration and is protected. We are hoping that Microsoft will move this reporting into their standard reporting but as of now this is the only way this information is accessible.
Though we had high hopes for PowerShell and had spent months perfecting it, the new solution will be much more secure and is compliant with Microsoft's guidelines.
CloudRadial Roadmap
We've preached transparency with clients, but until now have not been that transparent with our own plans and roadmap. With this release, subscribed clients will have access to our CloudRadial Roadmap. To see the roadmap, go to your Partner Account page and look for the CloudRadial Roadmap link on the right side of the page. Clicking this will automatically log you into our private roadmap where you and see, contribute and vote on new features.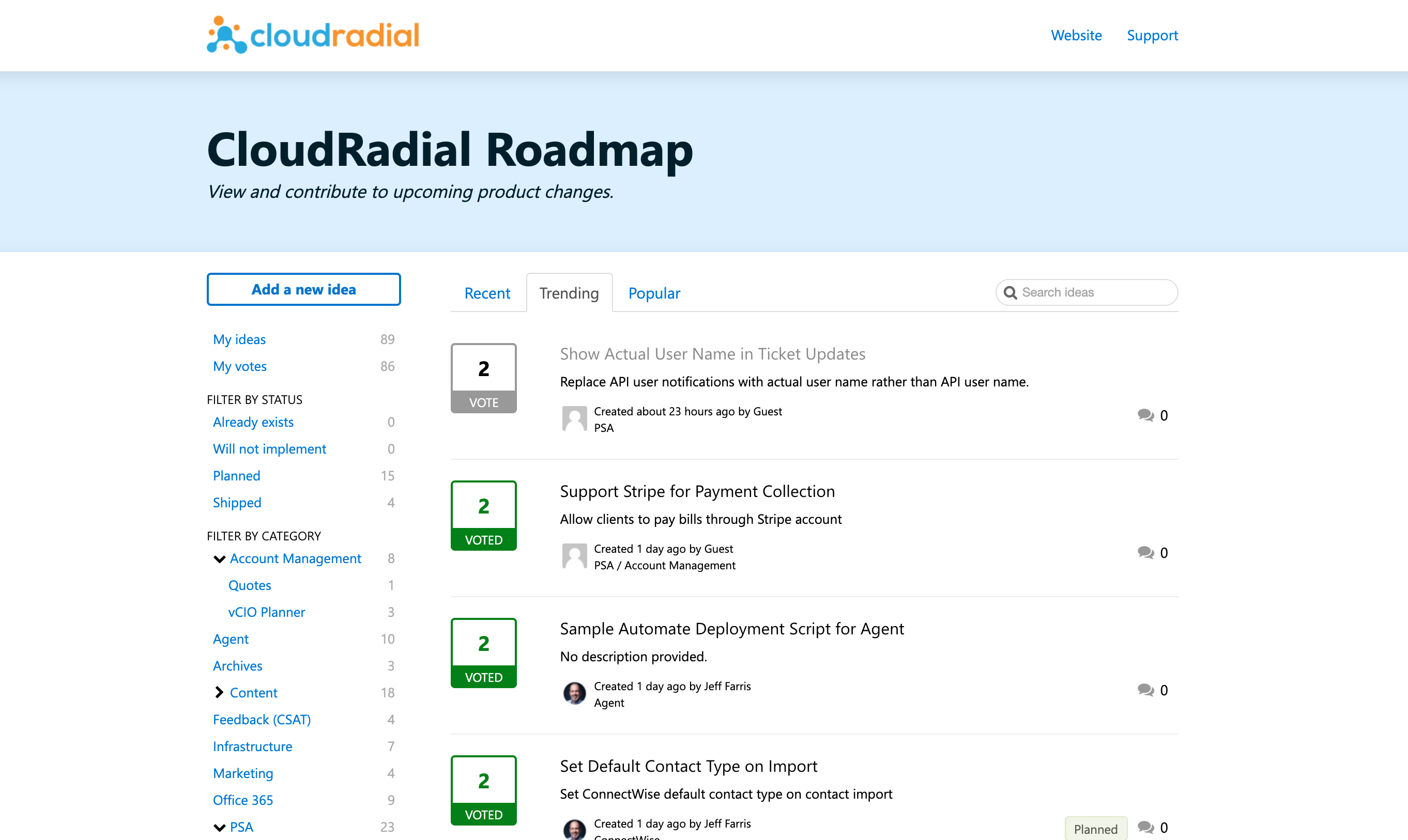 The roadmap is a work in process but there are already over 100 great suggestions listed. Please contribute as you can and help shape CloudRadial's direction by voting on anything that will help you serve your clients better