This update summarizes CloudRadial changes that were released over the past few weeks.
Account Planner
The highlight of the recent changes is the new Account Planner. The Account Planner brings together two key concepts that create an effective account management approach. The first concept is that of a solutions stack that defines the products that every client should be using. The second concept is that of a sales matrix which matches the right products to the right clients and tracks their implementation. The Account Planner is visible to clients under their Account tab: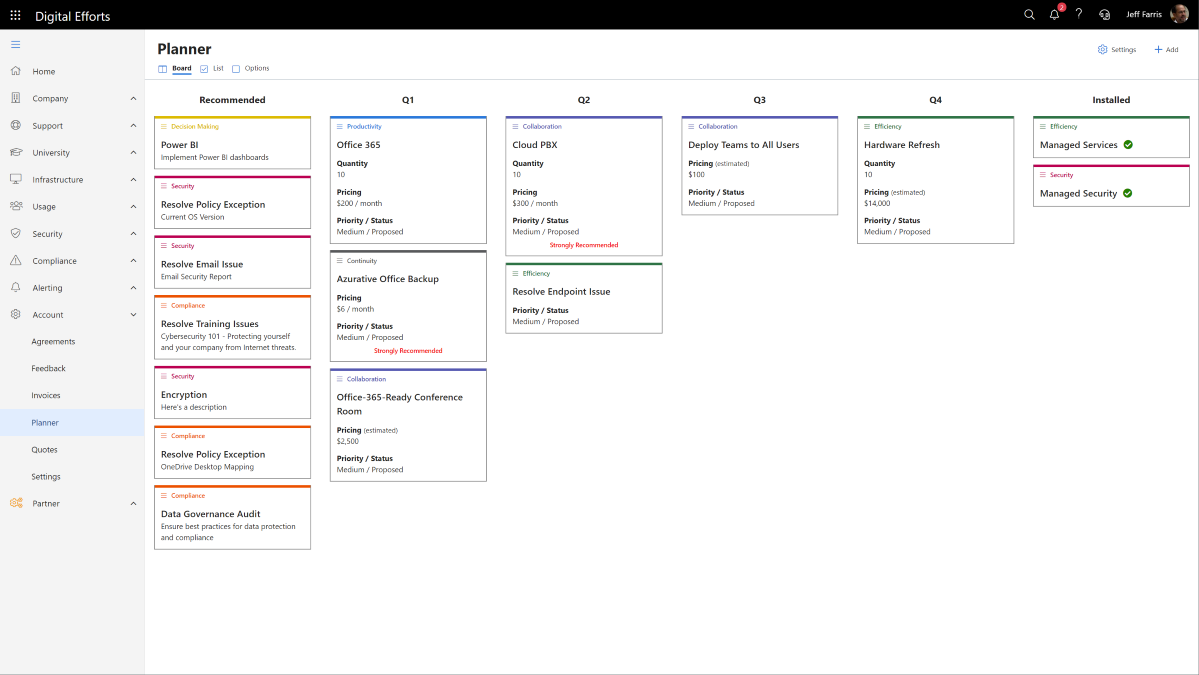 The client view features a drag-drop style board (similar to Microsoft Planner) that makes it easy to move items from the recommended column into the quarter of their planned implementation or to the installed column. It also has a partner-facing display that shows a summary of all items under the Partner tab: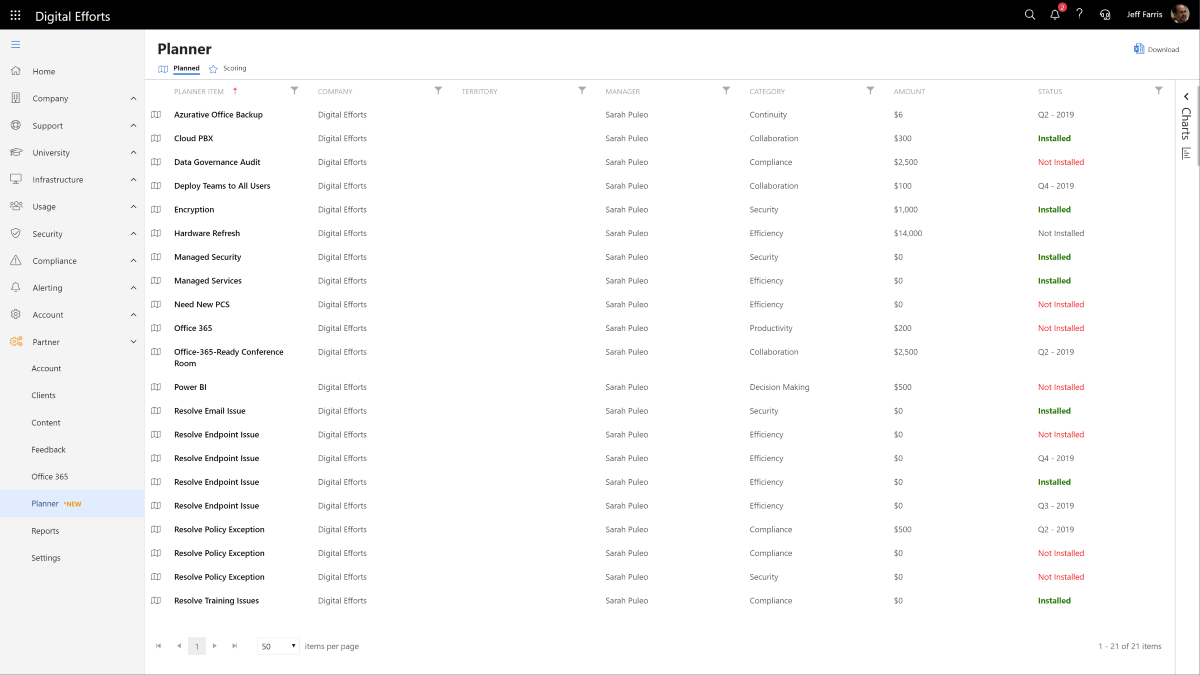 Products (Planner Items) work like other CloudRadial content and are created either under the client's planner view or as publishable content packages. Products have categories that are defined under the Partner Settings tab. Sample products and categories are already loaded and available as a starting point. As always, use the "Save As" option in the content package to make a version you can work with.
The Account Planner is integrated throughout the client's portal. Items can be added from most screens using the "Planner" button that is displayed when viewing an item.
Account Planner Meta Data
As you create and edit products, you can create descriptions that appear to clients as "brochures" for the product. Use the description to present the benefits of implementing the product. You can also add meta data such as cost, estimated effort and scoring. Use this data in your partner roll-up or download so that you get an accurate estimate of staff needs or revenue growth.
There's more improvements planned for the Account Planner, be sure and let us know your feedback as you work with this new feature.
Other Improvements
CSAT AI-based Sentiment Analysis - Sometimes the written feedback you receive doesn't always match the score. CloudRadial now uses AI to detect the sentiment of the text entered and provides a separate scoring of this observation.
Editor Improvements - Better handling of tables and special elements.
Board or Queue Overrides - By company, you can now direct a client to their own board or queue.
Support Home Improvements - You can now disable all items on the Support Home page including Report a Problem and Request Service.
Save As Content Items - There is now a Save As button when you edit an existing content item to create a copy of that item within the content package.
Log In by Domain - Users can now log in to CloudRadial if they are using an email address that matches a company's domain. Users are added as "manual" entries unless they use the Office 365 option.
Knowledge Base Search Display - Revamped the display of items within a KB search to show date and author. Summary information is now displayed here as a hover tip.
Policy Exceptions - Individual exceptions can now be excluded from triggering out-of-compliance status for policies.
Bug Fixes
Added agreement adjustments to the Agreements total for ConnectWise.
Fixed problem displaying ticket when member not found in ConnectWise.
Fixed issue with Feedback running slow for Autotask users during some validation operations.
Fixed bug getting quotes from QuoteWerks originating opportunities.
Fixed but when clicking on category label on Support Home page.
Plus other smaller fixes.
Upcoming Events