Happy September! Lots of bug fixes in this release, as well as a great new partnership. We're also on the cusp of some of the biggest features in CloudRadial history.
New Integrations
We've been aggressively adding new integrations into the platform to build and support an overarching strategy of client self-service and automation.
Wingman MSP Marketing - Kickstart your marketing efforts with free course content exclusive to CloudRadial Partners. This new course offers marketing advice and strategy on how to make your website work better for you.

For more information, Partners can read this article.
Feature and Feature Updates
CloudRadial Automations (Alpha) - We're very excited to preview a feature we've been working extremely hard on. Our new automation engine will change the way CloudRadial fundamentally operates and will open up nearly unlimited opportunities to interweave drag-and-drop automation functionality into the features you use.

Sign up for the first look webinar here.

Prepend Subject on Tickets - A much-requested feature, we've changed the subject of the tickets to be the first entry in the subject area. We've also clarified how the subject logic works within tickets for better automation capabilities.

For more details, please read this article.


Fixed "Feedback Not Found" Issue - Fixed an issue where CSAT tickets from CloudRadial don't attribute to their appropriate tickets in the PSA.


Fixed Syncro Ticket Timeout Issue - Due to a limit of Syncro ticket API calls, we've changed how we query ticket lookups to ensure the ticket display pull doesn't time out.


Fixed "Save As" Bug with Quick Start Guides - Fixed an issue where Quick Starts couldn't be saved due to an error with copying the attachment/PDF that they carried.


Fixed HaloPSA Ticket Reply Bug - Fixed an issue where customer replies would automatically set the ticket status in HaloPSA to "New".


Fixed Issue With Reverting Deleted Items in Partner > Security > Audit Trail - Fixed an issue where the reversion of audit trail entries didn't restore the specific object.


Fixed Duplicate Display of Support Home Page in Feature Sets - Fixed an issue where the setting of the Support Home page would show an additional Home page in the Feature Set.


Fixed Deletion Issue With Global Report Archives - Fixed an issue where deleting global report archives would error out and not delete them appropriately.
Upcoming Webinars
[New Feature] Introducing Drag and Drop Automations
Join Jeff Farris, CEO and President of CloudRadial, and Ricky Cecchini, VP of Product, CloudRadial, as they take a deep dive into the new Automations drag-and-drop feature.
Register here if you're looking to streamline routine and repetitive tasks, increase efficiency without the additional overheads, and scale your MSP without losing more time.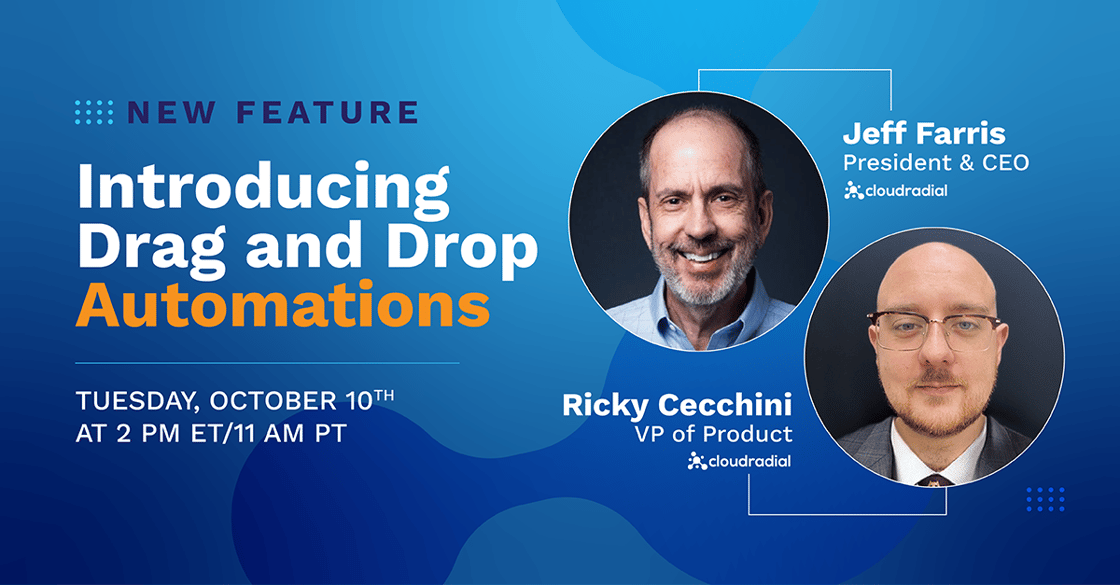 Leave Us a Review and Get $15
Review CloudRadial on Channel Program and get a $15 gift card of your choice. It's quick and easy!