Happy mid-August, everyone! We're driving forward with new features. We're getting ready for some bigger moves towards the end of the year, but that doesn't mean we've slowed down on improving the product.
Below, you'll find what we've been up to as we continue to revolutionize the client-facing MSP space.
Features and Feature Updates
Failed Ticket Advisories - Added a new feature to optionally give notice to Partners when tickets fail, via email. This helps keep the client experience consistent to ensure that even when tickets do fail to submit (typically from routing misconfiguration), the client is none the wiser.

For more details, please read this article.


Helpdesk Habits Bug Fix - Fixed a bug where the Helpdesk Habits videos weren't loading. The videos should now work as normal. If you notice your Helpdesk Habits video isn't working in the University course area, please email support@cloudradial.com and let us know.


ClipTraining Video Update - Updated the manifest so that ClipTraining courses generated from Partner > Settings > Integrations > ClipTraining pull the latest courses, including new security courses. If you're a ClipTraining partner, be sure to grab the new package for the newest content.

For more details, please read this article.


Optimized Excel Ticket Downloads - Fixed bugs and updated the way in which we pull tickets in for spreadsheet-based downloading across all PSAs. Specifically, we also fixed:

The HaloPSA Excel download of tickets (improved load speed dramatically).
Fixed issue with Halo tickets not including certain statuses in Excel



Major Bug Fix - HaloPSA - Fixed a bug where CloudRadial would rename contacts in HaloPSA based on their email during sync. The fix now allows syncing to happen without overwriting the display name with the email address.


Additional General Bug Fixes - There are many other bug fixes that happened behind the scenes, including performance optimization, library security updates, and code refactoring for load speed and security.
Upcoming Webinars
Unleashing the Power of Self-Service: How to Elevate Your MSP to New Heights
Join us Thursday, September 7, at 2 p.m. ET, as we take a deep dive into self-service and discuss why it needs to play an important part in every MSP. You'll discover how self-service can supercharge efficiency, empower your clients to become more self-sufficient, optimize internal processes, and drive customer satisfaction to new heights.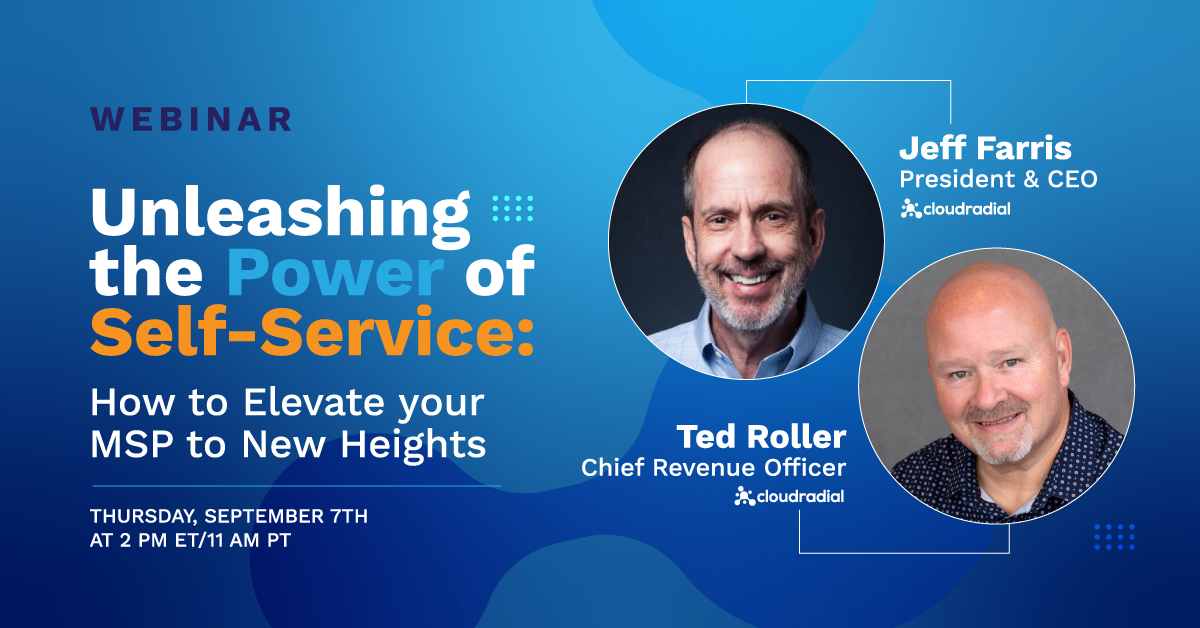 Conference News
CloudRadial Wins!
We took home the award for Best in Show at SMB TechFest! A huge thank you to all of our partners for your continued support!